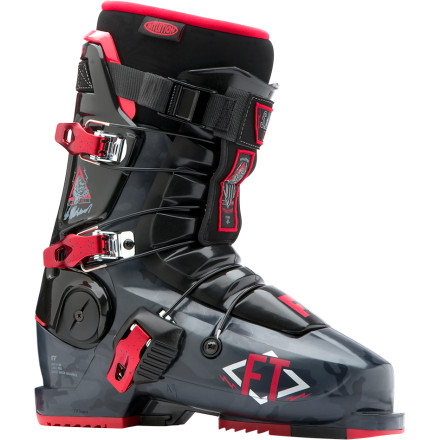 Community Images
Description
Need we say more?
Custom-made specifically for THE Seth Morrison, the Full Tilt Seth Morrison Pro Model Ski Boot provides him with a platform that's informed by his experience as one of the best big-mountain skiers in the world for over 20 years. Designed for aggressive, hard-charging skiers who prefer big lines and airs, the Seth offers a burly 10 out of 10 flex, which will allow you to charge as hard as you want, thanks to Full Tilt's famous three-piece-shell-and-ribbed-tongue design, while maintaining a smooth, consistent flex that eliminates shin bang.

The Seth features a redesigned version of Full Tilt's original shell called the FTS Soul—it rocks a high-performance 99mm last for a snug, low-volume fit and, thanks to the free-flexing rear cuff design, a flex pattern that's totally free of hard and dead spots. Full Tilt's also hooked the Seth up with a heat-moldable Intuition Pro Liner, which features three layers of heat-moldable foam around the foot, along with an harder external Powerwrap layer that assists in transferring energy directly into the shell for increased power and precision. The Pro liner also has J-Bar technology, a J-shaped piece of foam around the ankle areas to dramatically increase ankle hold to keep your foot in place.
Once your foot's in the Seth, get to locking it down. It's been tricked out with widetrack aluminum buckles and flexible cables, which hold your foot down tightly without pinching the shell over itself and negatively affecting its carefully tuned flex. The cinch power strap makes it easy to crank the cuff down over your shin for a snug, responsive fit from the top of the boot to the toes. The Seth also has some unexpected tricks up its sleeve, like a full rubber sole--useful when you're hiking the big, high-consequence terrain that Seth does—and a shock-absorbing footbed that takes all the sting out of 60-foot backflips. Just kidding—they'll still probably hurt a little.

99mm last
Intuition Pro heat-moldable liner with Powerwrap foam and J-Bar ankle hold
Three-piece Full Tilt Soul shell with stiff flex
Fully pivoting swappable tongue
Free-flexing rear cuff
Shock absorber boot board
Rubber sole
Aluminum widetrack buckles and a cinch power strap
Excellence in form, fit and function
Familiarity:

I've put it through the wringer
i skied the original raichle version back in the day, and now with the relatively new "soul" version of the shell, i'm back! this is the first boot i've ever owned that with a molded intuition liner, fit like a firm handshake right out of the box. the flex is amazing; firm yet forgiving at the same time. the adjustability of the boot is fantastic; the buckles are micro adjustable and the forward lean and cuffs can be played with as well. easy on/off, even with a freezing cold shell. this is probably the best boot for 3d terrain i've ever skied in. because of their weight, they're easy on the boot pack and, with a pair of marker tour f12's or similar, are excellent for a short skin.
that all said, the boots do have a couple of shortcomings; as mentioned by other reviewers here, the supplied power strap is useless for anyone with man calves. if full tilt added approx. 3 or 4 inches to the strap, i might be able to get them to work.i replaced them with "booster" straps. and the supplied intuition liner, especially the "j bar" heel holder, while great, has built-in instep supports which negate the use of orthotics. as far as the toe buckle being hard to fasten, when putting the boot on try pressing down on the top of the tongue while buckling the middle buckle, then do the top buckle and power strap, stand and flex the heel into the pocket and then lastly, buckle the toe. undo in reverse order; toe, middle, then top buckle. the boots appear black but are actually a dark camo. the rubber sole is very tough and shows little wear after a season of skiing, scrambling and hiking.
i had a great season in these boots and expect to have many more. if they fit your feet, you will not be disappointed.
Great Performance
Gender:

Male

Familiarity:

I've used it several times
The first thing you need to know about this boot is that it fits a narrow low volume foot. My feet are pretty average and wide up front. I also use custom foot beds. The foot bed creates a volume issue in the already low volume boot. Fortunately, the boot fitter was able to work out the problems and I got my boots punched and fitted and working great.



The flex on these things is great. Once you break the boot in there is a very smooth consistent flex. The flex is labeled as 10, or stiffest, but don't let that scare you off, I'd say they are a bit softer than other boots that are in the 120-130 range.



I do have some concerns with the boot that could easily be addressed by Full Tilt.



1. The power strap is garbage. It's already fraying and because of the alterations I made(including the footbed) it isn't nearly long enough. It should be longer and double, triple stitched for added durability.



2. The buckle on the clasp is too small to work with your gloves on. Adding another clasp and strap would really improve this boot.



Full Tilt does offer customization and I can purchase a longer strap. However, after spending $700.00 on a boot + 300 on fitting, it is annoying that I should spend even more money to get the right strap.



Also, it would be nice if Full Tilt made this boot in different volumes. Because of the foot beds and my larger foot, the boot does not overlap at the tongue over the cuff as it should and I probably loose some stiffness and get some water entering through the gaps as a result.

The full volume model they sell lacked many of the features I wanted. However, if a version of these two boots combining the features of both had been available, I would have chosen the higher volume model.



All in all, I love the boot based on its superior performance.
First Full Tilt Experience: Success.
Familiarity:

I've used it several times
First off I want to say that I have NOT molded these boots yet. I know I should, and I will, but I just wanted to ski so it got put on hold.



First thing I noticed when I put these boots on is the liners. Very thick, very comfy, very awesome. A quick cook and they will be amazing. That being said the boots were moderately comfortable without a cook, but after about 6 days in them the liners have begun to break in and now I have very happy feet. (still going to cook them).



I think the flex on the morrisons is spot on. It is very smooth and consistent which i love. The buckles are great for the most part. It is awesome to be able to tighten them down on the fly with the little ratchet tab. I do however wish the tab on the buckle to move it forward and backward was a bit bigger, as it is quite difficult to find it with with clumsy gloves.



My other minor issue with this boot is the strap. Not really sure what they were thinking with this. I am all for having a strap, but the ball got dropped with this one. It is thin and flimsy and you have to feed the end of it through a small metal buckle. Near impossible to do with gloves on. Not to mention, when you do get them cranked down (also difficult because the strap is so thin) you have the excess bit of strap just floppin around. I plan on throwing a booster strap on.



Part of me also wishes the buckles were all the same. The toe buckle is different and can be difficult to hook. Maybe there is a purpose for this I have not yet realized.



These are my small issues. Other than that these boots are GREAT. The comfort level for me was most important and these nailed it. The flex is great. The buckles are sturdy. The liner cant be beat. Do not hesitate on these. When the heel and toe pieces wear out you can replace them, and I plan on keeping these boots a very long time.



Side note: Go to a boot fitter and make sure you know what size shell to get. I wear a size 8 street shoe and got a 24.5 boot, which says a US 6.5. I definitely don't wear a 6.5 shoe.
End your boot bang whoas.
Familiarity:

I've put it through the wringer
Black and gray camo, looks mostly black. The rubber soles are not as soft as past seasons soles. More durability there. The wider rail on the buckles as well as aluminum adds durability. I like the booster strap, it cinches down nice and snug, where you set it.