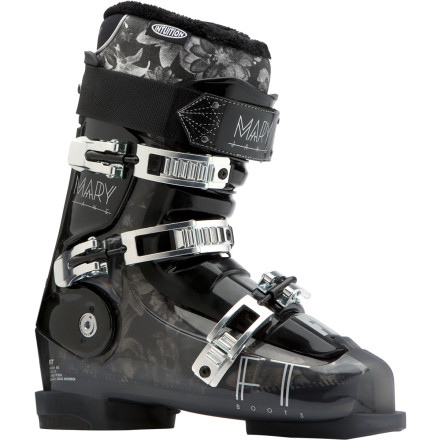 If the mere thought of stepping into your ski boot sends shivers down your spine and makes your feet curl up and hide, it's time check out the Full Tilt Women's Mary Jane Ski Boot. Full Tilt designed the Mary Jane to take the sting out of shredding, so it threw just about every foot-saving feature it could at it, including a wide 102mm last with a women's-specific shape, a wider toe box to keep your piggies from turning into roast beef, and a wider cuff to accommodate women's calves. The MJ also comes with Intuition's Plush Liner—the thickest liner Full Tilt puts in their boots—which has four layers of warmth-trapping heat-moldable foam, making it easy to dial in the perfect fit. It'll even mold to contours of your foot on its own, if you'd rather skip the trip to the bootfitter.
Full Tilt's also renowned for its shell designs, and the Mary Jane features the same three-piece shell that made Full Tilt famous. The tongue, which has five ribs for an accordion-style flex, pivots open from the toe so you can get your boots on and off with ease, and the rear cuff has unrestricted forward motion to move as smoothly as you do. The Mary Jane also offers a smooth, consistent flex courtesy of the Influence shell, which has a medium flex (5 of 10 on Full Tilt's scale), and can be customized by swapping out the tongue—customization is another of Full Tilt's trademarks. All you need is a Phillips screwdriver.

Women's-specific fit
Wide toe box and cuff
Comfortable 102mm last
Extra-thick Intuition Plush heat-moldable liner
Three-piece Full Tilt Influence shell with medium flex
Pivoting easy-entry swappable tongue
Shock Absorber boot board
Aluminum ladder buckles and hook-and-loop power strap
What do you think about this product?
Have questions about this product?
Always shop deals in the off season. Great price and Intuition liner were the main draws on this boot for my wife. She found the fit especially in the toe box about a half size large but that can be overcome with a good cushioned sock. May be characteristic of the liner design as I have the same issue on my Dabello AT boot. She loves the walk into liner and the soft flex should work good with her Vandalay skis (13m rad) as we believe the smaller radius requires less stiffness in the boot (easier flex allows better initiation or suspension of weight on the edge). The see thru shell and flowered "girly" liner didn't hurt either; she's all girl !! The plastic in the boot is reminiscent of old Nordicas with blue and purple soft plastic overlap. In this case, if they prove to soft or kick out early, there are stiffer tongues available on Full Tilt web site. Expect it may cure her "my feet hurt issue" ?? Lighter boot than her Langes, Vanadlays lighter than her Nordica Beast all mountains. Expect we have now reduced her total swing weight by 40% ........................great innovation for a retirement age intermediate skier.