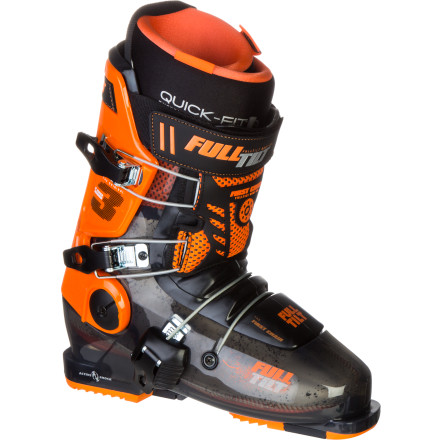 Videos
If the thought of new stiff boots makes you cringe, think again with the Full Tilt Men's First Chair Ski Boot. The stiffest boot in the Full Tilt lineup, this all-mountain boot has a maximum flex index and rigid boo board for ripping foot-to-boot performance but not the agonizing pain. Its ribbed tongue gives the flex a silky smoothness, and the closed-cell Intuition Pro liner with Powerwrap and J-Bar fit mold to your foot for a glove-like fit so you're not unbuckling every run. This wonder-liner also keeps your foot warm and comfy so you don't have to run in and get five-dollar hot cocoa, unless you want to. Widetrack aluminum buckles make cranking down for a precise fit a breeze, and the replaceable rubber sole gives you everlasting grip on slick surfaces. Oh yeah, and then there's the stiffest-boot performance, but you know all about that balls-to-the-walls big-mountain skiing, or else you'd be looking elsewhere.
FTS Soul three-piece shell
Stiff 10 Flex
Intuition Pro liner with Powerwrap
J-Bar ankle hold
99mm last width
Rigid boot board
Widetrack aluminum buckles
Replaceable Rubbersole
Would any Full tilt boots work if you...
Would any Full tilt boots work if you have a wide foot and big calf?
Best Answer
Hey Will,



There are a couple Full Tilts that are made for wider feet. Check out the Booter (Item # FLT0060) and the High Five (Item # FLT0062) Both of those boots have a last width of 102mm as apposed to the 99mm last width of most Full Tilts, including the First Chair.



The High Five will have the same Intuition Pro liner that this First Chair has, however, it will be a little bit softer. Just put those items numbers in the search bar and check them out.



Hope this helps!
Wicked fantastic boot!!!
Familiarity:

I've put it through the wringer
This boot is wicked fantastic!

It performs in all snow conditions, all terrains.

I ski all day with all mountain kids ski classes, I don't have time to constantly adjust boot for different tasks,buckle them up in the morning and go all day!

Wicked fantastic performance and comfort!
First Chair as a progressive boot? Would...
First Chair as a progressive boot?

Would this boot be too stiff to use for an intermediate like me? Even if I were to switch out the #10 tongue for a softer flex tongue like a #6? I want to consider this boot because it would allow me switch out tongues as I progress in my ability. I'm more of an all mountain carver, and i like to ski trees. I'm 5'10" and around 130 lbs. I read the reviews for the wallisch full tilts but i don't like the way the new ones look and nobody has my size the in old ones.
You can definitely get these and change out the tongues. Go for it. You like the look better anyway. The tongues are $50. You will have the boot you like better.



As you advance in your ability and grow more, you can change tongues gradually from 6 to 8 to 10 if you want. If you have good technical ability at carving already, then go directly to the 8 flex since you are 5' 10".



I weight 200 lbs. and ski the 8 flex. I am also very, very aggressive and have never needed anything more than the 8 flex.



ADVICE ON SWITCHING THE TONGUES:



WRENCH & FLAT-HEAD SCREW-DRIVER. PULL APART THE METAL ATTACHMENTS WITH A VERY SMALL WRENCH AND REMOVE.



USE FLAT-HEAD SCREW DRIVER TO PUSH DOWN THE METAL PIECE ON ONE SIDE OF THE NEW TONGUE. ONCE THAT PIECE IS IN TIGHT, THEN USE FLAT-HEAD TO PUSH DOWN ON METAL PIECE FROM OTHER SIDE.



Trust me... it took a while until I figured out how easy it could be. Do not use your fingers. It won't work and your fingers will hurt for days.



I showed a local ski boot salesman how to do this and he was very impressed with how easy I did it.
Unanswered Question
Is there a stiff flex boot (8-9) in the...
Is there a stiff flex boot (8-9) in the Full Tilt line-up for a wider foot with high instep volume?
Have there been any changes the 2014...
Have there been any changes the 2014 model?
This years model has a slightly bigger toe box around the big toes for added room ( 1.6mm). They also have a new sole design that allows for replacement rubber soles for when they get thrashed during the season. Other than that, they are the same as last year
Full Tilt First Chair Ski Boot - Men's