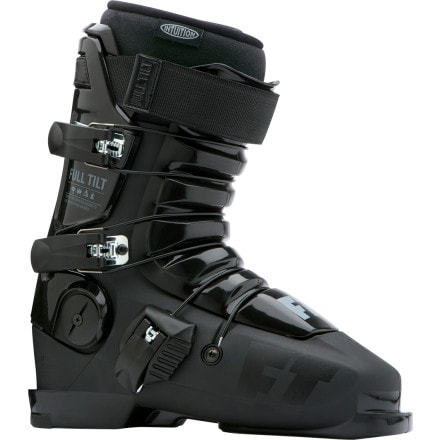 Description
Kick crappy boots to the curb.
Getting banged up is one of the consequences of pushing it—you'll have busted lips, black eyes, broken bones, and blown joints, but at least the Full Tilt Drop Kick Men's Ski Boot won't have your feet and shins in unnecessary pain. This is partly due to Full Tilt's famous three-part shell construction, which uses a fully pivoting ribbed tongue and free-flexing rear cuff to provide a smooth and consistent flex, and partly to the wide toe box that lets your feet maintain circulation without feeling loose or sloppy. The Drop Kick comes with a tongue that's rated medium on Full Tilt's scale, but it's super easy to swap it out for a stiffer or softer tongue, if you want to fine-tune your boot's flex.

Don't be in too great of hurry to swap tongues, though, because a good deal of the Drop Kick's stiffness is provided by the heat-moldable Inutition Performer liner, which uses three layers of foam to provide a reasonably thin performance fit that's still comfortable and cushy where you need it to be. Full Tilt's got the whole fit thing dialed, too—nylon ratchet buckles and foot-wrapping cables provide a precise fit without clamping down too hard and affecting the flex of the boot. The shock absorber footbed helps to cushion hard landings, while the rubber heel adds some more shock absorption and grip on rocky ridge walks and slick parking lots, which are often the most dangerous part of a days' shred.

99mm last with a wide toe box
Intuition Performer heat-moldable liner
Three-piece Full Tilt Original shell with medium flex
Pivoting easy-entry swappable tongue
Free-flexing rear cuff
Shock absorber boot board
Rubber heel
Nylon ratchet buckles and hook-and-loop power strap
Fully customizable