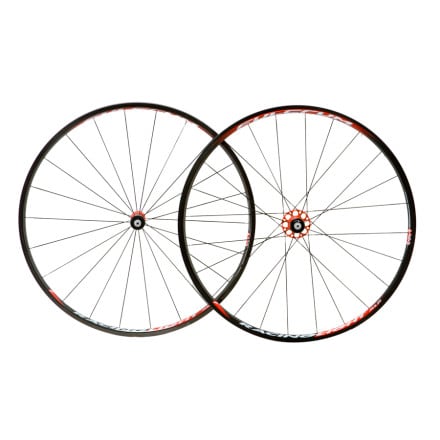 Detail Images
If the climb is your favorite part of the ride, but you still need a durable, and exceptionally balanced platform for the rest of the race, the versatile Fulcrum Racing Light XLR Clincher Wheelset might be your ideal wheelset. Even though the sleek and shallow-profiled Racing Light is Fulcrum's lightest, most race-ready wheel in their lineup, it is still fully prepared for combat on the worst roads you could possibly imagine riding. Like those of the bone-rattling Paris-Roubaix, when the tubular Racing Light carried Filippo Pozzato to the podium in 2009. This is essentially the same wheelset of the pro tour, albeit one that gives you the simple convenience and familiarity of clincher tires.
The Racing Light XLR Clincher Wheelset makes liberal use of carbon fiber in both the rims and the hubs to keep the weight to a bare minimum. The rims are 100% carbon fiber and utilize Fulcrum's Dynamic Balance System; Special layers of fabric are oriented to balance the weight of the valve stem, so you can expect that the Racing Light XLR's will spin smoothly at any speed. The carbon/aluminum hubs roll on Fulcrum's CULT ceramic bearings, super-round silicon nitride balls in Cronitect steel races. The steel in these races is especially hard as a result of its crystalline structure, and it features a thermo-chemical surface treatment to minimize friction and deter corrosion.
The front wheel uses 22 radially laced bladed spokes with the nipples hidden inside the rim for improved aerodynamic efficiency. The rear wheel has 24 spokes, and features Fulcrum's Two-to-One lacing pattern: the left side has eight radial spokes, while the drive side employs 16 tangentially laced spokes to efficiently transmit the power as you dance atop the pedals. The oversize right flange on the rear hub also assures a better balance of spoke tension across the rear wheel for greater durability.
The Fulcrum Racing Light XLR Clincher is a no-holds-barred wheelset for climbers looking for the ultimate multi-terrain racing wheel and prefer the convenience of clincher tires. It is light enough to use on uphill time trials and the hilliest of road courses, yet it is more than durable enough for everything else. It ships with all-weather brake pads optimized for the carbon fiber braking surface, as well as Fulcrum's new quick release skewers that offer greater clamping force and more security. The rear wheel is available with a Campy-compatible aluminum freehub body or steel-bodied version compatible with Shimano/SRAM cassettes. And one minor technical note: Campagnolo recommends that the CULT bearing systems be lubricated with oil, not grease.