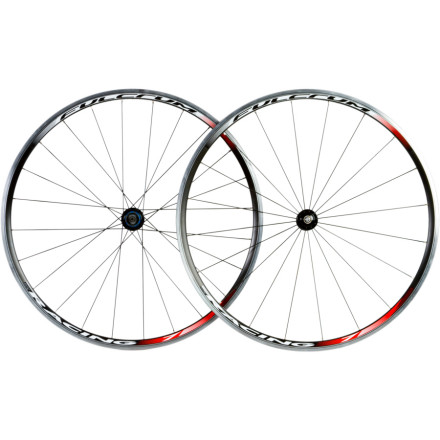 Detail Images
The Fulcrum Racing 7 Wheelset may represent the ground floor of Fulcrum's line of wheels, but let's not confuse any notion of "entry-level" with what the Racing 7 is actually capable of. It's a robust training or touring platform that leverages all of the trickle-down technology from Fulcrum's top-shelf offerings while still remaining an economic choice for season after season of reliable use.
Like the more race-oriented members of the Fulcrum family, the front wheel of the Racing 7 has 20 radial spokes and the 24-spoke rear wheel uses Fulcrum's patented Two-to-One lacing pattern, which is eight radially laced spokes on the left side and 16 tangentially laced spokes connected to the oversize right hand hub flange. This system maximizes torque transfer when you stomp on the pedals and balances spoke tension for a more durable wheel. The Racing 7 also borrows its hub design from Fulcrum's top-tier wheels, but instead uses aluminum shells with sealed high precision steel bearings cartridges for maximum longevity and rotational smoothness.
The Fulcrum Racing 7 Wheelset is compatible with Campy and Shimano/SRAM cassettes. It comes with Fulcrum quick-release skewers.
2-to-1 lacing on the rear wheel puts 16 spokes on the drive side and 8 on the non-drive side to transfer torque and power more effectively

Radial lacing on the front wheel improves aerodynamics

24mm rim depth with aerodynamic profile cuts your drag to make you faster

Machined braking surface provides smooth, dependable braking