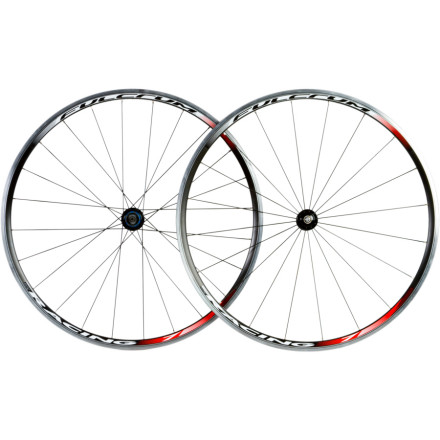 Detail Images
The Fulcrum Racing 7 Wheelset may represent the ground floor of Fulcrum's line of wheels, but let's not confuse any notion of "entry-level" with what the Racing 7 is actually capable of. It's a robust training or touring platform that leverages all of the trickle-down technology from Fulcrum's top-shelf offerings while still remaining an economic choice for season after season of reliable use.
Like the more race-oriented members of the Fulcrum family, the front wheel of the Racing 7 has 20 radial spokes and the 24-spoke rear wheel uses Fulcrum's patented Two-to-One lacing pattern, which is eight radially laced spokes on the left side and 16 tangentially laced spokes connected to the oversize right hand hub flange. This system maximizes torque transfer when you stomp on the pedals and balances spoke tension for a more durable wheel. The Racing 7 also borrows its hub design from Fulcrum's top-tier wheels, but instead uses aluminum shells with sealed high precision steel bearings cartridges for maximum longevity and rotational smoothness.
The Fulcrum Racing 7 Wheelset is compatible with Campy and Shimano/SRAM cassettes. It comes with Fulcrum quick-release skewers.
2-to-1 lacing on the rear wheel puts 16 spokes on the drive side and 8 on the non-drive side to transfer torque and power more effectively

Radial lacing on the front wheel improves aerodynamics

24mm rim depth with aerodynamic profile cuts your drag to make you faster

Machined braking surface provides smooth, dependable braking

Full-Crumb 7
Familiarity:

I've put it through the wringer
On the 2nd ride, rear wheel flew apart like a cardboard shack in a cat. 5 hurricane. If you actually ride your bike on real roads and weigh more than a TdF climber, forget these low-spoke count abominations and get a set of hand-builts that is assembled by a human being with Knowledge and Experience.
I have two sets of Fulcrum 7's
Both of my 2 wheelsets arrived perfectly true and tight, and have never given me any trouble. I have a pair from 2010, and a pair from 2012. One set is on my Tarmac Pro, the other on my GF's Allez.

Certainly not the lightest, but we are not racing...
Like another reviewer, these came stock on my bike. Very durable and seem to stay true but these are coming off for my fast group rides, etc. They are very heavy wheels and obviously that is a factor to consider. I do training on them and then switch out to my Easton EA SLX's. Huge difference.
Good value, but don't let the fast looking decals fool you.
The Fulcrum 7s came stock on my bike. They look real nice on the bike and the hubs are solid and smooth.The wheels were not very true out of the box. The front had a little wobble and rear was about 2-3mm out of true. This was concerning for me but others I talked to with the same wheels haven't had the same issue. After I had the wheel true, the wheelset proved to have great durability that makes it an ideal commuter or training wheel. After curb drops, gravel, and off-road riding all is still working great.The weight more that matches the durability though. Mine were almost 2000 grams without skewers. When I pop my 1500 gram wheelset the difference is very noticeable. The decals looks fast and this is a bummer because they are poser wheels. Just rips the decals off and these are great for your randonee, cross, and commuter bikes.Considering the weight, performance, and cost this makes for a fairly good value wheel at $350. If you are considering buying these for retail price I would suggest you look at the Easton EA50 or Williams System 19 or 30 wheels or even a custom build at you LBS.
What's the freewheel compatibility? Shimano...
What's the freewheel compatibility? Shimano 9/10?
I would use the online chat to get your answer. I have a set of these wheels and they are Shimano 9 and 10 speed and SRAM 10 speed compatible but not compatible with dura-ace cassettes. But when I looked closely to the picture the freehub body shown is the model that fits 10 speed Dura-Ace cassettes with the deep spline only.
I ride a pair of these on my Cross bike. I take my X on just about everything my MTB buddies do. I've never had to true them.
I ride a pair of these on my Cross bike. I take my X on just about everything my MTB buddies do. I've never had to true them.