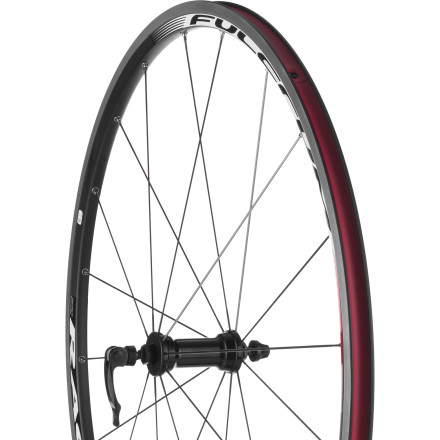 Detail Images
The muddy world of cyclocross plays by a different set of rules. And if you hope to have any success in racing, or you just want to enjoy your beers with a stronger sense of accomplishment, your wheels need to strike the balance between weight and durability. For most builders, a 'cross wheel is simply wider, but to Fulcrum, this singular concept isn't enough. That's why Fulcrum's Racing 5CX wheelset has not only been made stronger, but new engineering techniques also led to better protection of the bearings and a more balanced, faster wheel.
Starting at the rim, Fulcrum constructed the Racing 5CX from aluminum -- no surprise there. And while this alloy composition is both strong and lightweight, the wheel's high strength-to-weight ratio required a multi-step design approach. Let's start at the rim and work our way to the hub. In cyclocross, wheel tension is paramount. Your wheels drudge by hit-after-hit, and over time, this impact translates to the interface between the spoke nipples and the rims -- the eyelets. So, to counter this stress, Fulcrum went to the length of reinforcing them in order to retain proper tension. And as for the spokes, the Racing 5CX features double-butted steel spokes, while still retaining an aerodynamic profile.
Making our way down to the hubs, you can really see the cyclocross side of things coming into play. Fulcrum employed what it calls its Dynamic Balance technology, here. The principle at work is relatively simple -- a balanced wheel is both a faster and stronger wheel. So, at the rear wheel, the Racing 5CX compensates for the freehub body with two oversized spokes on the non-driveside. The weight gain is beyond negligible, but the rotational dynamics are drastically improved. Further along these lines, the rear wheel has received Fulcrum's 2:1 technology. This system is attributable to hub's having no flange on the no-drive and a flange on the driveside. Fulcrum found that the rotational force of pedaling resulted in the flex of driveside spokes. This slackens rim tension and creates a net loss in energy. So, the solution takes form in a doubling of driveside spokes. Essentially, there's now two spokes performing the duties of one, and accordingly, energy dissipation has been nearly eliminated.
Going even further into the hub, Fulcrum made the Racing 5CX hubs with an oversized design. This feature plays directly into the rigors of cyclocross. Not only is the hub now more stable, but the oversized flange and body translates to heightened levels of rigidity and reactivity -- vital characteristics for the dismount, remount, and sprint style of 'cross. To keep out the dirt and grime that's associated with 'cross, Fulcrum gave the wheels a set of double-sealed, cylindrical bearings. Over time, this system keeps friction at a minimum and rolling as smooth as day one.
Rounding the build, the Racing 5CX wheelset has been built with 20 radial laced spokes in the front
The Fulcrum Racing 5CX is available in the color Black and with a Shimano freehub compatibility. Please note that this wheelset is not compatible with Shimano 11-speed shift systems. Fulcrum also says that the Racing 5CX is compatible with tires up to 35mm in width.
What do you think about this product?
Have questions about this product?
Excellent budget wheelset
These are an amazing deal at the sale price. I bought them to put on a road bike I recently got, as an upgrade from the stock Alex wheelset.



These fulcrums arent all that light or aerodynamic, but still seem to be fantastic wheels. Hubs are well made and well designed. Spokes seem to be high quality. Freehub is heavy, but durable since its steel and not aluminum and has a nice noise (not too loud but not too quiet). Spoke tension is high and they seem to respond well to accelerations.



You may be a little underwhelmed when you pull them out of the box, I was myself, mainly beause they felt heavier then I expected, and heavier than the claimed weight. But give them a chance... If you are more concerned with actual performance than weight then i think you will be more than happy with them, and you would be hard pressed to find better for the price.

I actually had purchased a lighter but similarly priced wheelset elsewhere before these but returned them because lightweight was their only redeeming factor. These fulcrums are way better in every way, just considerably heavier.



I suspect the CX decals is keeping road bikers away from these, but even though thu say cx they are just the road wheels with extra protection do the bearings from grit ad water and whatnot, which to me is obviously a good thing for wheels that will see day to day, year round use.



As for the the star rating, I'd give them a 4 overall, say of you were buying at close to retail. But at this sale price,they are an absolute 5 star as a under 2 hundred dollar wheelset.