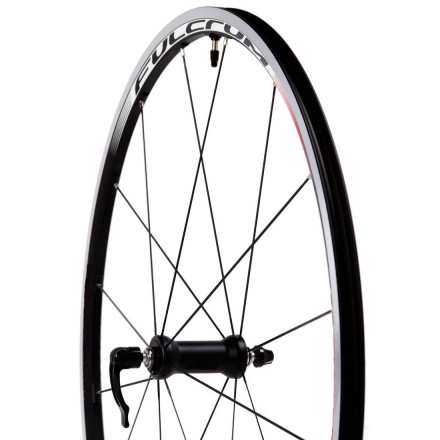 Detail Images
The Fulcrum Racing 3 2-Way Fit Wheelset is more than just a stiff, durable, and fast-rolling wheel for season-long training or racing. It's also a clincher, or a tubular, depending on what you need it to be. Fulcrum's 2-Way Fit technology essentially makes the Racing 3 a tubeless-ready wheel, allowing you to enjoy the smooth ride quality, superior cornering, and lowered rolling resistance of a marquee tubular wheelset. Conversely, you can also run your Racing 3 like a standard non-tubeless clincher, fitted with your favorite tire and tube combination. Fulcrum's unique hooked rim structure lets you seat the tire bead like any other clincher; without the tedious application of messy glues or binders. Just be sure to use a tubeless-ready tire like the Hutchinson Fusion 3 Road Tubeless tire.
If you look on the inside of the semi-aero profiled 2-Way rim you'll see that it has no spoke holes. This eliminates the need for rim strips and paves the way for tubeless tire installation. In order to get the spoke nipples in position to fix the bladed stainless steel spokes, Fulcrum uses a magnet to draw them into their respective seats using the valve stem hole as an insertion point. The burnished stainless steel spokes are anchored to an aluminum hub shell that spins on Fulcrum's smooth-running stainless bearings around an aluminum axle. The Racing 3 uses an anti-rotation attachment system to keep the oval aero spokes slicing cleanly through the wind.
Both rims have been machined between the spoke holes to reduce any extra weight and feature Fulcrum's Dynamic Balance System. On the Racing 3s, this means that it lacks the machining near the valve stem hole. The tiny mass of remaining aluminum, acts to balance the weight of the opposing rim joint. The front wheel has 16 radially laced spokes, and the rear has 21 spokes using Fulcrum's Two-to-One pattern. This puts seven radial spokes on the non-drive side, and 14 tangentially laced spokes anchored to the oversized drive side flange on the rear hub. The Two-to-One pattern ensures a greater transfer of your power input and a better balance of tension in the wheel for greater trueness and durability.
The Fulcrum Racing 3 2-Way Fit Wheelset comes with a new quick release skewer that is lighter than previous iterations while providing greater clamping force and more security. It is available with either Campy or Shimano/SRAM compatible freehub bodies.