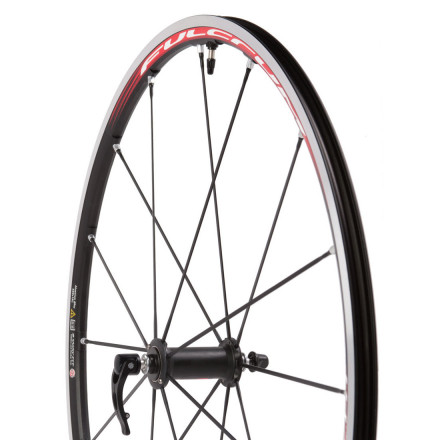 Detail Images
In the arms race for a singular, do-it-all wheel, the Fulcrum Racing 1 2-Way Fit Wheelset makes a case that is as compelling as they come. Too often, lightweight wheels are assumed to be fragile and thus reserved exclusively for race day, while durable wheels are thought to be heavy and relegated to a life of prolonged training sessions. The Racing 1 is inherently both - exceptionally lightweight, and unflinchingly durable, while still offering a further bonus - Fulcrum's elegant tubeless solution, called 2-Way Fit. The Racing 1 utilizes a unique hooked rim, which allows you to choose between reaping the multitude of ride-quality benefits from a tubular wheelset, or riding the comfortable familiarity of your favorite clincher tire and tube combination. This especially allows you to tailor your wheel setup to the type of race, training session, or 'fondo you have scheduled, without necessitating a spare wheelset in your closet. Just remember that if you opt for the tubeless setup, be sure to equip a tubeless-ready tire like the Hutchinson Fusion 3 to ensure the right fit.
The Racing 1 uses all-aluminum hub shells (in contrast to the carbon and aluminum version on the Racing Zero), but they're lightweight nonetheless thanks to their use of aluminum axles. Smooth-running stainless steel hub bearings keep friction minimized, which nicely complements the Racing 1's aerodynamic advantages. Since the rims here are tubeless, Fulcrum uses a magnet to pull special spoke nipples from the valve hole around the hollow interior of the rim to get them into their respective positions. The outer wall of the rim is pierced only for the valve stem and doesn't require any rim strips whether or not you choose to ride tubes or tubeless. Fulcrum machines excess aluminum from the rims between each spoke to reduce any unnecessary weight; however, they intentionally left the area near the valve stem hole unmachined to counteract the mass of the opposing rim joint. They call this Dynamic Balancing and the result is a wheelset that rolls smoothly at any speed.
The front wheel has a 26mm-deep rim and 16 radially laced spokes. The rear wheel has a 30mm-deep rim and 21 spokes using Fulcrum's Two-to-One pattern. Under this configuration, the non-drive side has seven radial spokes and the drive side uses 14 tangentially laced spokes anchored to the oversized right side flange on the rear hub which ensures a greater transfer of your power input and a better balance of tension in the wheel for greater durability.
The Fulcrum Racing 1 2-Way Fit wheelset is prime for racing with its semi-aero profiled rims and bladed spokes, but it's also durable and strong enough for everyday riding and training. The Racing 1 includes two re-designed skewers that offer greater clamping force and more security. The freehub body is available in an alloy Campy version and a steel version for Shimano/SRAM cassettes.
What do you think about this product?
Have questions about this product?
Very nice wheels, not aero
I put about 4,000 miles on one of these wheelsets over the course of a year. I used both regular and tubeless tires. They are nice wheels and spin up well, and are fairly stiff. I'm 200 pounds or so and they held up really well. What they are not though, is an aero wheelset. I did one race with them and they are a real drag, literally, compared to an actual set of aero hoops. I have a set of 32 spoke wheels and I can barely tell the difference aerodynamics-wise. I upgraded to Mavic Cosmics and it is night and day compared to these wheels. This is a super nice set of wheels, just don't expect them to be really swift. BTW the ride quality with tubeless is exceptional.