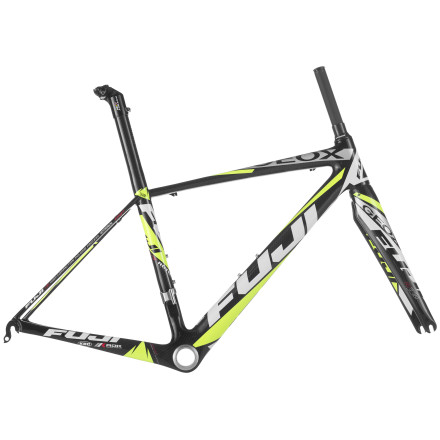 Detail Images

Community Images
When Fuji began developing what would ultimately become its flagship Altamira, the objective was to build a frameset suited specifically for grand tour racing. At the time, the majority of Fuji's pro riders were aboard its rigid SST (Super Stiff Team) sprinter-specific frame, which was really a 'quiver' frameset. The engineers knew their athletes would benefit more from a well-rounded workhorse frame, so they began collaborating directly with its team Geox-TMC pro riders during the development process. They used real-time race feedback gathered from the Spanish squad to refine its new frame platform, eventually leading to the Altamira design.
The Altamira's two-year R&D process proved to be a success, as Geox's Juan Jose Cobo relied on his trusty new steed to claim the top spot in 2011's grueling Vuelta. We watched him battle the world's best throughout the Spanish countryside, with the highlight unfolding on stage 15 as he overtook fellow countryman Igor Anton to seal the deal on the famed Angliru climb. His bicycle handled beautifully, reassuring the Fuji team that their hard efforts produced the world-class race machine they had originally set out to build.
Fuji built its top-end Altamira from a high-modulus D-6 carbon blend. This is the highest level of carbon material Fuji manufactures, capable of producing incredibly low tube weights that deliver a stiff yet compliant road feel. Fuji applied the D-6 carbon to the Altamira using a three-tube -- top, head, and down tube -- monocoque front end, which was then molded to a second monocoque section that encompasses the bottom bracket and chainstays. The IST integrated seat tube and seatstays were molded separately, with all of the components assembled together using a modified tube-to-tube joining process. According to Fuji, the joints of the frame were strategically placed in low stress areas of the frame to provide a light, stiff, and vertically-compliant ride.
By working with Geox pro riders, Fuji's engineers were able to tweak the carbon tube shapes for an optimal race-tuned feel. They kept the lower chassis incredibly stiff by mating the large down tube and chainstays to an oversized press-fit BB86 bottom bracket. The enlarged juncture created an ultra-stiff pedaling platform, which, for you, means an efficient transfer of power directly into your rear wheel. Moving up from this section of the frame, Fuji paired a tapered top tube and slender seatstays for an overall balanced road feel. The result in this matchup is a rigid lower half of the frame combined with a more compliant upper section.
Rounding out the front of the frame, a tapered 1-1/8in to 1-1/2in head tube provides maximum rigidity and predictable handling. The fork Fuji developed specifically for the Altamira was molded from a lightweight FC-330 carbon layup. Below its tapered carbon steerer, Fuji's signature flared upper-blade fork design, which works to provide both front end rigidity and aerodynamics, flows down into the slender carbon dropouts.
The frameset includes an FSA No. 42 integrated headset with carbon top cover, a braze-on front derailleur mount, and carbon dropouts (with a replaceable hanger) round out the rear of the frame. And because Shimano was the drivetrain supplier for team Geox-TMC, the Altamira framesets feature pre-drilled cable routing, giving you the option of easily running Di2 components.
The Fuji Altamira LTD Road Bike Frame - 2011 comes in at a claimed weight of 955g. It is available in sizes 44cm, 47cm, 50cm, 53cm, 55cm, and 58 cm and in the Team Geox paint scheme.
AMAZING
Familiarity:

I've used it several times
Amazing frame, extra light, stiff and beautifully colored. Eletronic shifters also make a diference.
Best frame ever.
Familiarity:

I've put it through the wringer
This is the nicest frame I've ever had. But, had trouble with the integrated seatpost and the topper fuji recommends you to use. The topper had three slots and that's exactly where it would crinch the integrated seatpost. On the third frame the folks at competitive were so nice to send me, I used the also included Ritchey topper and no problems whatsoever. But it had the mounting holes for the rear bottle cage off center causing my right leg to rub with my water bottle. Sadly the fluorescent yellow faded in a matter of months. I sent it back and now I will be receiving the 1.1 model. This was the nicest and best riding bike I've had. It was very hard to give up even with all it's flaws. I wish fuji would make me another one with paint that doesn't fade and well centered bottle cage mounts. Super stiff bottom bracket. Awesome handling.
Unanswered Question
Hello. It is not clear to me how this seat...
Hello. It is not clear to me how this seat post/seat mast works. Is the c-t measurement the tallest possible seat post height for this integrated seat post?

Also, what is the offset on the seat clamp. Need to know this to select the stem length.
Great frame and deal
Familiarity:

I've used it once or twice and have initial impressions
Received this frame for a Christmas present and had some trouble with my first build, broke the seat tube due to the original seat mast. Competitive Cyclist sent a new frame and I have since built it but now using a Ritchey topper. No problems now and the frame is lightening fast, very stiff and very smooth. I love the graphics and integrated post design of the bike and it fits very well. Competitive Cyclist has excellent customer support and stands behind the products they offer. I reccomend both the frame and using them for purchases.
What about Campy EPS electronic compatibility?...
What about Campy EPS electronic compatibility? Normally, I would just read the description that this is Di2 compatible and not consider this an option for me. But at this price, I just have to ask to make sure I am not passing up such a good deal - Is there absolutely no way to make this frame work with Campy EPS electronic gruppo? Even if I have to make minor modifications?
Best Answer
Hi Alex. The Altamira Di2 will work with EPS builds as well as Di2. I would be happy to set up a quote for a complete build. brett@competitivecyclist.com
Hi Brett, THANKS for the info. I have already purchased my Campy EPS gruppo awhile back, but did not have a suitable frame for it yet. I have a Calfee and a Seven frame that could have been re-done for EPS but Calfee will charge almost the price of this Fuji and Seven will charge even more than that. So rather than re-tool one of my other frames, this is a better option on a great deal on a very nice frame. Once I confirm/check which geometry between 47cm or 50cm is best for me , I will place my order.
I don't see why this frame wouldn't be...
I don't see why this frame wouldn't be compatible with SRAM Red mechanical groupset.

Anyone got anything to offer on that ?

Thanks

Phil
Best Answer
There are no cables bosses on the frame. You may be able to make it work with full length cables, but it would likely significantly degrade shifting quality.
I recently purchased this bike frame &...
I recently purchased this bike frame & found out that it only works on di2. Didn't thought about that cause I really love the color of the frame. There's no turning back cause I had it shipped all the way to Asia. Can somebody help me which parts will fit the frame using the New 2013 Shimano Ultegra 6770 Di2 Electronic 10s Kit

This is a full factory kit with your choice of options - included are the following:

1. STI Levers - Ultegra ST-6770 Di2 STI Levers

2. Rear Derailleur - Ultegra RD-6770 Di2

3. Front Derailleur - Ultegra FD-6770 Di2 braze on

4. Front Wire Kit with Control Unit - SM-EW67A-E

5. Connecting Wires - EW-SD50 (included lengths 300mm, 550mm, 700mm, 1000mm)

6. Rear Junction Box - SM-JC40 (for EXTERNAL) or SM-JC41 (for INTERNAL)

7. Battery - SM-BTR1 Rechargeable Battery or SM-BTR2 Internal Seatpost Rechargeable Battery

8. Battery Mount - SM-BMR1-IB LONG, INTERNAL or SM-BMR1-LB LONG, EXTERNAL (for water bottle cage mounts) or SM-BMR1-S SHORT, EXTERNAL (for specific Di2 battery mount on the chainstay or downtube). SM-BMR1 is not needed if using SM-BTR2 Internal Battery.

9. Charger - SM-BCR1 (110V-220V) with power cord (for SM-BTR1) or SM-BCR2 with Cable (for SM-BTR2)

10. Harness Grommet - 6mm or 7x8mm



Thank you.
Bryan we would be more than happy to help you with that. please call us at 1.888.276.7130
Light & Fast
Familiarity:

I've used it several times
I came off an older low-end carbon frame when I saw this deal come through. It was too good to pass up, especially for a frame in my (small) size. My regular frame size fits me well, just be sure you're using the c-c measurement as the c-t measurement is WAY off b/c of the integrated seat mast. It came beautifully packaged w/ everything I needed to complete the build - even came with two types of seat mast toppers (integrated seatpost on this frame, remember!). The build quality was great with only a couple of caveats. First, I tried to put one of the seat mast toppers on the uncut mast and it was too tight - had to sand it down for it to fit. Once I (carefully) cut the mast to the proper length it fit easily without sanding - probably just too many layers of clearcoat at the top of the uncut mast. Second, the fork dropouts have a slight narrowing at the inlet making it hard to get the wheel in and out - fits fine once it's in place, just takes a little "oomph" to get it through the opening - the first time especially. Probably the same issue as with the seat mast - a little overzealous clearcoat application. Press fit bottom brackets are a pain, but works great now that it's in. Love the internal routing of the Di2-specific frame design (no frame bosses for cable routing, so don't think you can use your mechanical shifting gear!) as it gives the bike a great clean look. Once built, it was obviously quicker accelerating than my previous bike and very stiff along the chainstay. The seatstays are very thin, though and really add to the ride compliance over mediocre road conditions. The graphics are a little "loud", but in early morning/late evening light conditions the hi-vis yellow/green graphics make the bike much more visible to motorists. With 500 miles in, I'd definitely recommend this frame as the start of a build, and with the price it's going for on chainlove I might have to buy another as a spare!
Hello, or to the frame can be mounted...
Hello,

or to the frame can be mounted Shimano Ultegra 6800 group
No, the bike is designed specifically for an electronic groupset.
is this Fuji Bicycles Altamira LTD Di2 -...
is this Fuji Bicycles Altamira LTD Di2 - 2011 support Di2 only?! thanks.
Best Answer
Yes. Di2 Only. Just cancelled my order because I didn't notice it was missing the frame bosses for the derailleurs . The red 2012 does have them but in bigger sizes than I needed. Very disappointing but my mistake for not reading and noticing carefully enough.
WHAT A BIKE!!
Familiarity:

I've put it through the wringer
What more can I say! What a sensational bike. I have to admit, its a bit ugly proabbly casue its a bit to loud, but man, its super light and fast. It really is the real deal, and at that price you cant go wrong. What would have cost me over 6K with the Di2 built, only really cost me about 4K. If these great deals keep coming, Im going to have to many bike to know what to do with