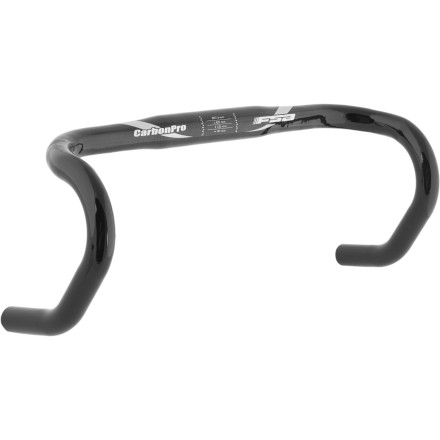 Detail Images
The FSA RD-330 Alloy Handlebar is unique among the current crop of compact handlebars. While it has traditional 145mm drop and 90mm reach measurements, it comes with an ergonomic bend. The bend isn't so radical (by that we mean pistol grip-shaped shaped) that it feels awkward. What it does do for you is offer two distinct hand positions in the drops. The lowest portion on the flats will allow you to achieve a low, tucked position for supreme aerodynamic efficiency, and the angled ergo platform locks you into a muscular attack position, with natural and ready access to your brakes and shift levers.
The RD-330 is made from double-butted aluminum alloy, with its center section composed of a woven carbon fiber layer. While this composite layer does add to the stiffness and strength of the bars somewhat, the greatest effect is how gorgeous it makes the front of your bike look. Once wrapped, all you see protruding from inside the bar tape is perfectly glossy carbon fiber.
The FSA RD-330 Alloy Handlebar is available in 42cm width only. It has a 31.8mm clamp diameter, with a 145mm drop and 90mm reach. The ergonomic bend is perfectly suited for Ergopower, STI, and DoubleTap levers.