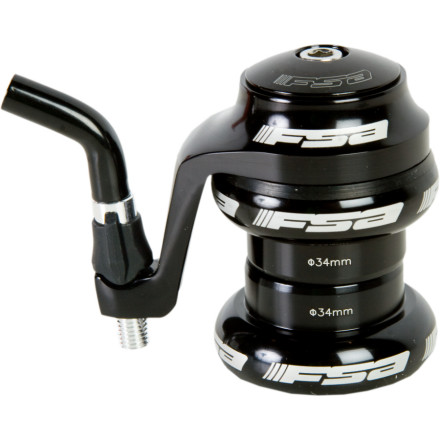 The boom in cyclocross racing has forced component manufacturers to reinvent the wheel, or in the case of the FSA Orbit X-CX Headset, the headset. This headset has all of the refined performance features you've come to expect from an FSA road headset, but the Orbit X-CX can handle all of the barrier bunny hops and rack overloads you can throw at it. The Orbit X-CX is a must-have headset for any cyclocross or touring rig.
FSA built this headset tough without loading it up on grams. The Orbit X-CX has a load of specialized features, and still comes in with a weight comparable to that of a standard Chris King headset. Features include an integrated cable hanger for cantilever brakes, with a new barrel adjuster feature for quick adjustments on the fly. For the cup material, FSA selected the ever sturdy forged 6061-T6 Alloy. The CNC machining process, coupled with the laser-etched branding, gives a nice streamlined aesthetic.
It may be pretty, but the capabilities of the Orbit X-CX are fully realized in rough, abusive conditions. To accommodate this usage, FSA included their sealed angular contact bearings for the X-CX. The advantage of angular contact bearings is their capability to withstand heavy axial forces and extreme radial loads. In English: You can beat this headset up. Or if you're a cycle tourist, you can load your bike up with some seriously weighted panniers.
The FSA Orbit X-CX is a 1-1/8in threadless headset, and has a stack height of 43.4mm.