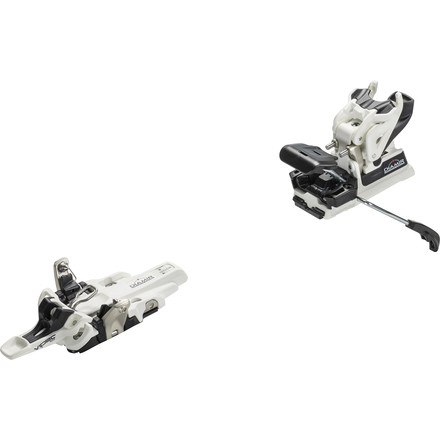 Description
Lightweight touring function meets ultimate power transmission.
Built for rugged ski mountaineering ascents and bomber freeride descents, the Fritschi Diamir Vipec 12 Binding is an evolution of the world's first alpine touring binding to combine the lightweight pin system of a tech binding with the standardized safety release capabilities of an alpine binding. The result is a binding that provides both lightweight touring functionality and maximum alpine-style power transmission. The Vipec easily switches between walk and ski modes without the need to step out of the binding, and its toe piece features micro-adjustable width wings to accommodate the wide variety of tech insert styles on the market.
A favorite of avalanche professionals, the Vipec features a two-stage heel riser, allowing for three different easily adjustable configurations depending on the grade of terrain. This binding's pre-defined safety release capabilities utilize a gliding heel piece with dynamic travel for consistent contact pressure and reliable release. Lateral, frontal, and defined release capable, the Vipec is built to be powerfully stable while still providing a safe ride.
Lateral, frontal, and defined release capabilities
Walk and ski mode Easy Switch adjustment
Micro-adjustable width toe piece wings
Two-stage heel riser (three configurations)
Safety Tech System
Integrated dynamic range
Does the Diamar vipec come with 130 brake as I have 120 order foot
Hey Eddie,

If your skis are 120 underfoot, then I'd go with the 120 brake option. If the brakes don't clear perfectly, you can bend them slightly by hand until they clear.

Ben
Will these fit the La sportiva Spitfire? And what about the starlet? Both 1.0 not the 2.0s
Yes these will work great with any tech AT boot.
love 'em
Familiarity:

I've put it through the wringer
These were my first tech bindings, and I love them! I have them mounted on my BD Converts, which makes for an ultralight backcountry setup (even though I don't have the carbon model). Switching between modes in these bindings is a breeze, which I LOVE. Last season, I even skied these inbounds for the majority of the season. I was really impressed with how bomber they felt, even when dropping smaller cliffs and skiing fast through bumpy crud. My only complaint is that the toe piece is sometimes tough to get into (it's gotten stuck in a position where I had to push down on the release to get into them, but I just took them to the demo shop at the bottom of the hill and they fixed that real quick for me). Overall, the Vipecs are definitely a great binding that that does it all.
I'm thinking about switching my dukes for the vipecs, but not sure how the mounting holes sit in relation to each other.



Could I use my old skis and just swap the bindings?
Oskar they will have a different mounting pattern. Not a big deal as long as you have only mounted the skis once with the dukes. They can move the binding forward or back slightly to accommodate thee different hole pattern.



Feel free to hit me up at bporreca@backcountry.com or 801-736-6398.
Superlight, reliable, fiddly to get into
Familiarity:

I've used it several times
Working reliably even in chop at speed, easy to switch between modes on the fly. Found them harder to get into (with my Scarpa Maestrales) than the G3 Ions, but the adjustable release setting more important for me.
I have a ski with a 112mm waist. Can the 108 be bent that much or should I go with the 120?
108 can definitely be bent to match that.



You can call or email me directly. 801-736-6398, or bporreca@backcountry.com
Best Answer
Hmm, Bill, I just looked below and someone said the 108 was tight (my impression) on their 100mm ski?


Climb like Dynafit. Descend like alpine
I had the original version and had pin back out on a climb. Shop fixed it with locative. Then pin came out on bigger climb. Shop replaced with current model. Now work like a charm. Don't see how same problem could occur with current model. They release when you want them too. Multiple good releases from toe pin going lateral when I had twisting fall in heavy snow. They haven't released when I haven't wanted them to.
2 questions



1. Will 14/15 Salomon Quest series boot fit these binding? I know there's tech setting on the boot, but just to ensure. in case like down below Scarpa boot comment.



2. what size of Vipec to get to mount a 95mm underfoot ski?



cheers
1. Yes, I use the Vipecs with Salomon QuestMax boots and they work great, just make sure the pin is appropriately adjusted.



2. You could get away with the 95mm brake, but the 108 will tuck in just fine and gives you more space if you want to remount them to something wider.
I took the leap into the Tech Binding world this year and bought the Fritschi Diamir Vipec 12 Binding. I have had the Marker Duke as part of an AT set up in the past and they were great for side country hikes. This year I went more weight conscious for pure backcountry skiing. The Vipecs, et al. Tech Bindings fly up the hill- amazing. The problem is, you get ejected rather easily even with appropriate release settings. And getting clipped back in when it's 0 degrees, 4 ft of powder and the wind is blowing nearly impossible. As much as I wanted the frames/tech binding to work for me- it's just not the case. Can someone recommend a framed/AT binding that is bullet proof and wight conscious? Thank You.
Best Answer
Bulletproof AND light? Hmm. That's the holy grail that everyone is chasing. If you kept popping out of the Vipecs, your best bet is one of the new DIN16 pin bindings -- Marker Kingpin or Dynafit Beast. With a frame binding, you could save a pound or so over the Dukes and go with the Marker F12.
swiss delight
Familiarity:

I've used it several times
Light but solid. Flawless operation so far. Harsh resort conditions - not bad at all.
Any chance the 108mm brakes will fit over 112 mm skis? Are they bendable at all?


No, they won't. My 108mm brakes fit at the limit the 100mm skis.
Foxy Fritschi's
Familiarity:

I've used it several times
This is a great alternative to Dynafits! Awesome uphill capabilities with added security of the lateral toe release for the decent or the down days in the resort, and haven't had any problems with prerelease. Swapping between tour/ski modes and adjustment of heel risers with a pole is effortless. Only gripe is the toe piece can be a little difficult to get into at first if you're accustom to the Dynafit style. After the first few times it becomes much easier. No regrets on this great purchase!
I'm considering using these with my Scarpa Terminator X boots (which are NTN-telemark, but also compatible with TLT). Good idea or bad idea? I guess I need a spacer to put under the bellows to keep the boot from flexing. Any idea where I get the spacers? Do they come with the bindings?
Best Answer
Never mind. Scarpa says that boot-binding combination will not work.
I don't see why it wouldn't work. In theory all tech bindings should work with all boots that have tech fittings. And in fact, the Fritschi Vipec has toe pins that are specifically designed to handle boots that don't have exactly standard width toe inserts. My guess is that since Scarpa haven't tested this combination, it's easier and safer for them just to say no. The only issue with using Scarpa NTN boots is that you have to place a spacer under the bellows to stop the boot from bending and popping out of the binding. At one stage Scarpa bundled a nice removable spacer (that slid into the Dynafit crampon slot) along with their NTN boots, but no longer, I guess. You can make your own easily enough -- just cut up some plastic sheets, stack them up to the right thickness, and screw them onto your skis.
is this the 2014-15 model or the '13-14?