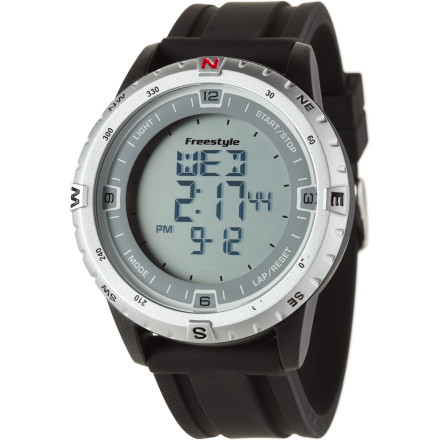 Community Images
Freestyle USA Touch Compass Watch features a touch activation screen, a multi-directional rotating top ring, and a sleek appearance for your active lifestyle.
Polycarbonate housing and silicon strap material for durability, longevity, and a sleek look
Water resistant up to 100 meters
Time/Day/Date keep you on track
Polycarbonate case and multi-directional rotating top ring
Touch activation screen with compass functionality
Chronograph with 50 lap memory
Count down timer with repeat for convenience
Warning: Avoid exposing the Touch Compass watch to extreme temperatures such as in a sauna or hot tub as the combination of extreme heat and water may cause your watch to lose some of its water resistance
Definitely a bad ass looking watch. The touch screen is pretty unique and always catches people's attention, but when wet gets increasingly difficult to use. I have kayaked with this watch quite a bit, and I always have to dry the screen off before I can use it. Since it's a touch screen it constantly locks itself every few seconds which can be a pain in the ass but you'll get use to it. Other complaints I have is that it's difficult to use in the dark. The backlight only stays on for a few seconds and is not very bright. Haven't got much use out of the compass, but it is accurate. My favorite part about this watch is the look and its durability. The touch screen interface is fun and unique, but can be frustrating.
Can the band be replaced with a metal...
Can the band be replaced with a metal one?
Freestyle does not make a specific replacement band, you might be better off contacting a skilled watch-smith for that one. Those guys are crafty and do just about anything short of alchemy.
I bought this watch for my boys, ages 14 and 17. They both LOVE the watch. They do alot of outdoor wilderness activities so love the fact it has the compass altho they have utilized that feature yet. They love the band and it is holding up well with snowboarding. the Touch feature is awesome! Overall, the guys like the look and feel of the watch. They have absolutely no complaints and it was an awesome gift! One got silver, the other with red trim - both look great!