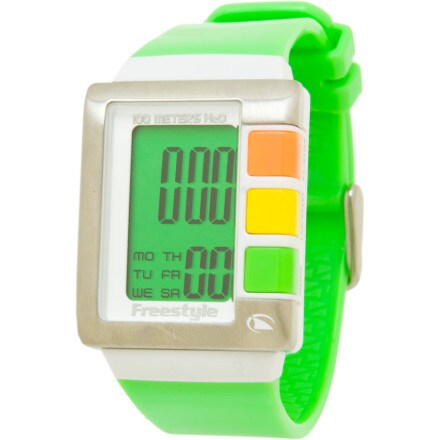 Detail Images
Keep track of your demanding summer schedule of pool-side sessions and dinner parties while you add flair to your closet full of colors with the Freestyle USA Women's Summer Watch. Soak up the sun before a nightly gathering of friends and keep track of the sun's arc with the Summer Watch's hourly chime and alarms. After you achieve your desired skin tone, matching this stylish watch to your dizzying rainbow of a wardrobe is a piece of cake.
Share your thoughts
What do you think of the
Freestyle USA
Summer Watch - Women's
? Share a...
Posted on
can't help but love this watch!
couldn't find my warranty for the watch in my previous review so i bought another one. i love this watch so much!! i use it everyday- great big numbers for work and i get lots of compliments on the colors. the screen background is a little darker than in the previous watch i had but that may be just the battery. haven't taken this IN the water (for fear of another broken watch) but i take it EVERYWHERE else! i have a ridiculous watch tan now but that just shows how much i love it, haha. if this watch breaks i'd buy it again in a heartbeat.
Posted on
kind of a let down
I wasn't turned off by thefact that the watch looks like something out of a 70's sci fi. Frankly I wished the buttons on it were bigger, I got the watch so I could easily hit the lap button or timer buttons in the pool without having to search for them or worry about hitting the wrong button. Unfortunately, the buttons are close enough together that while swimming it's not always easy to just hit on button. A bigger drawback is that you have to push in the button pretty hard for it to register. It is waterproof.
Posted on
not really waterproof.
i thought i found the watch of my dreams! my watch criteria was: 1) large display 2) timer/stopwatch 3) alarm 4) 24 hour ("military time") display 5) cute colors- specifically white! and pink!! 6) waterproof. this watch fit all of the above criteria and got about 3 months of daily use of this watch. and then i took it to the beach. it says 100 meter waterproof on the face! i was in 8 feet of ocean and when i got out the display is all wonky. the numbers aren't showing up properly and the days of the week is not showing up at all. i think it functions ok because i can hear the timer starting and stopping when i press the buttons. but the main idea of a watch is a visual display. this has thrown a huge wrench in my work routine and i am heartbroken that such a fantastic watch didn't live up to it's description. i love this watch so much that i migh just buy a replacement and use it for work only. but i really expected this to be a surf/dive watch and am pretty disappointed. i'll need to find a new beach watch now, too. i highly recommend this if you plan to stay out of the water. if you are looking for something to dive, fish, surf, or swim in- turn back now and save yourself from heartbreak.