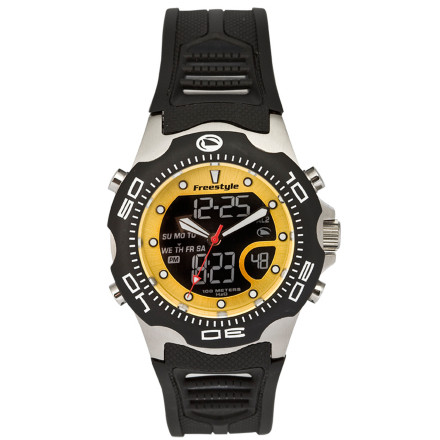 Stylish and stealthy just like its namesake, the Freestyle USA Shark X 2.0 Watch flashes its functional features with supreme confidence. The Shark Watch adapts to your environment, whether in the water or out, at work or at play. Use both the analog and digital face to countdown to quitting time. A turning top ring, two alarms, and a dual-time pre-set timer wrapped up in a sleek package provide versatility no matter what you're up to.
Unanswered Question
WHERE CAN I SEND A FREESTYLE WATCH TO BE...
WHERE CAN I SEND A FREESTYLE WATCH TO BE REPAIRED ?
Unanswered Question
I have had my freestyle watch for about a...
I have had my freestyle watch for about a year. My problem is the band is coming apart. Is there someway I can order another band for it?
Long review. Main point-SOLID PRODUCT
I bought this about a year ago, and... it's still on time, so that's good. Course, we live in the 20th... uh... excuse me, 21st century so i would expect nothing less. As for other things you expect from a watch, i've never had a problem with waterproof-ness (except, see after my accident) but i really never go below about 15 feet of water. the thing looks as new as it did the day i bought it (again, accident). This watch is TOUGH. On that note, i may as well discuss my big accident. So, i'm a rock climber. One day at the gym i tried a big dyno that was out of my league. I missed horribly and SMASHED the face of my watch on the hold. I'm pretty sure any other watch would have been ruined. This guy? Oh this guy took a lickin' but kept on tickin! Unfortunately, I caught it right on the edge of the glass (or whatever it is) face and chipped it up a little. Please understand, this thing WORKS LIKE A CHAMP, but because of the unfortunate placement of impact... i get a LITTLE fog in the display when i get the watch wet. That's it folks, a tiny chip and some foggy-ness... and any other watch would have been destroyed.
SOLID PRODUCT!
It has a nice heavy, but not too heavy feel on my wrist and has garnered compliments from several people. Approval of others is always good for my soul. ;-)
The initial set up seems a bit involved, but once I remembered what the four buttons do it is great. The crystal scratches a bit more easily than I would like, but it is meant for outdoors and will get banged up.
A very nice touch is the little band that holds the strap in place once you have it on your wrist. There is a little stub that slots into the strap and holds it down and stays in place. I'd not seen this before (maybe I should get out more).
It does not have a light, but it does have a button to illuminate certain digits. And this works well for me.
Unanswered Question
does shark x 2.0 watch have a light?
does shark x 2.0 watch have a light?