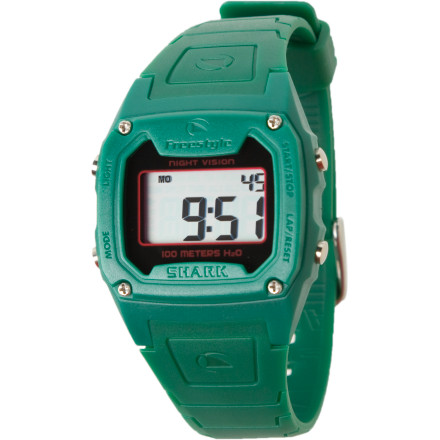 Detail Images

Community Images
If you skipped school nine times with Ferris, dominated Helltrack with Cru Jones and surfed the North Shore with Chandler, the stunningly retro Freestyle USA Shark Classic 80's Sport Watch will flash you back to radical faster than Doc Brown's Delorean. For this season, Freestyle USA decided to style out this time-traveling timepiece with a totally boss 80's color scheme that'll move ya like Juicy Fruit. So slip on your Original Jams, pump up the INXS, and head for the beach with a crucially cool chronograph strapped to your wrist. Just don't forget the Zinka.
CHECK OUT THE NEW SILICONE BAND!
Gender:

Female

Familiarity:

I've put it through the wringer
http://www.backcountry.com/freestyle-usa-shark-classic-silicone-watch



Same great Shark you know and love, with a silicone strap is that is much more flexible and more durable and fade resistant than polyurethane, not to mention also has increased flexibility for an improved fit!!
Freestyle USA Shark Classic Sport Watch
Gender:

Female

Familiarity:

I've used it several times
I have the white with the "shiny stones" on the front. Durable and pretty. Not your typical sports watch. Easy to use.
Unanswered Question
What size is the face on the black gloss/...
What size is the face on the black gloss/ orange Freestyle USA Shark Classic Sport Watch
Unanswered Question
About 30 years ago I bought a couple of...
About 30 years ago I bought a couple of very slim, feminine freestyle watches with cloth bands and absolutely loved them and got compliments all the time. They came in white and being a nurse of course I had that one, also pink, blue, aqua, etc. The very slim, feminine look is gone and I miss it. Please bring it back!!!!!!!!
i ordered two watches because i wanted to see which one i liked better. unfortunately one showed up without a battery. that pretty much made my decision for me which i was a little disappointed about. otherwise, the watch i kept is completely fine and the guy i talked to about returning the other watch was awesome. very good customer service and i appreciate you do a full refund to my card rather than store credit.

thanks for the help. too bad about the battery though.
I have the cyan colored one and it is amazing! I want to buy another soon also. But seriously go shop around for these because they have some really intense colors that you can't always find online!
Great Watch for the Price
Have had this watch now for three years and it still looks good. There is some slight discoloring on the band that is to be expected with the lighter color that I chose. I have worn it swimming, hiking, biking, and even for work and it has held up great. Definitely an eye catcher with the brighter colors and will definitely get you some second looks and compliments.
Unanswered Question
I have a freestyle shark with nylon band....
I have a freestyle shark with nylon band. I replaced the battery and now the numbers aren't displayed so they can be read, that is parts of numbers appear. Some times appear complete. Is there something wrong about the way I replced the battery, is the watch fixable? Is this watch warrented for life?
Unanswered Question
Does it have a countdown timer?
Does it have a countdown timer?
Does this watch have a 'stop watch' mode?...
Does this watch have a 'stop watch' mode? I really want to buy it (GREEN!) but I don't want to get a watch that isn't able to be a stop watch.
, ☃bcs_badge_alumni_label☃
Yes, these have a stop watch mode.
The white/red combo is rad. Super functional for running or work. Only thing is, it is a little large for my wrist -- I have it on the last hole and it works enough (doesn't slide around to other side of my wrist or anything)... I am pretty small/short though, so if it works for me, it should work for most; but if you are extra tiny, probably should go with the smaller, thinner band model.
I just ordered a free style USA Shark...
I just ordered a free style USA Shark Classic Sport watch ( orange !!! )and my question is does this watch come with a battery? and the the other question will I have a problem getting a battery for this watch in the future??

Charlie Shook
ccshook@sbcglobal.net
it does come with a battery in it ... and you should be able to take it in to your local jeweler or watch shop and they will be able to replace the battery for you!

enjoy the watch ... its hott!
Snag an old watch from yesteryear, fine-tune the features (updated chrono, backlight, band, etc.), and lay on enough color to make your eyeballs explode, and you have this year's Shark. Definitely the simplest watch I own, but the ease of use, mad throwback style and rad color make it an easy favorite.

* contrary to the tech specs, this isn't a large watch by any means
* while the blue I got is the tits, expect the brighter colors (green / yellow / white / pink / etc.) to get get hella dirty if you don't wash regularly
Fashionable and Practical
Great watch! I bought the yellow and black one and it looks dope! It does everything a good watch should do. I don't have to worry about ever taking it off (since its waterproof) and its very solidly built. The alarms are easy to use as well and it has a stop watch. Also its super cheap for how good the watch is. While it might look like this watch is more about fashion than anything else, it is a extremely functional and effective watch for any outdoor activity.I'd buy it again in a second
Ok, for those of you young guns out there this is the watch that you would have worn back in the day. I have had a few in my life time but this was a present for my 7 year old son. He absolutely loves it and these things will take a beating which is why I got it for him. These are great watches and i'm sure it will last. Thinking about getting one for myself here pretty soon.
I love freestyle watches and have been wearing them since I was a kid. It's completely waterproof and really resistant to bangs on tables, walls, etc. I wear it running and it feels great on my wrist and is generally super comfortable. The ONLY thing I would change is the face size--it is a little too big for me (female). Otherwise, everything about the watch is excellent!
It's comfy and the colors are intense.
Got a lot of questiones about it! everyone here wears nixon watches, so people notice it even more.
Rasta For sure!!!! Hands down the rasta watch is the illest its simple and sweet gets the job done during the dawn patrol morning sessions when u gotta get out for work at 9!!!
So many people comment on this watch! They love it and I do to. I have the full size one, careful not to purchase the "Shark-Mid" if you are a boy.
It is tough and waterproof. I take it surfing and snorkeling, I have not had it off since I got it in the mail.
I am totally getting another color!