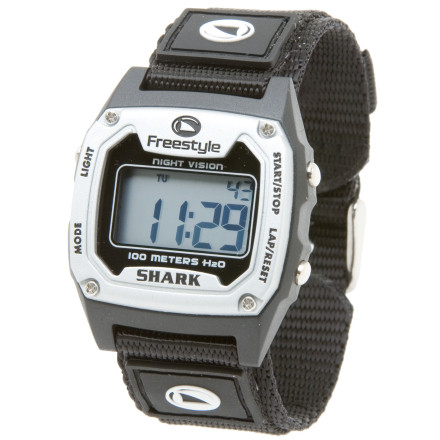 The Freestyle USA Men's Shark Classic Sport Watch started the surf-watch category over 25-years ago, and it's still going strong today. Water resistant to 100-meters, this Freestyle USA watch doesn't mind a day in the water. The Shark Classic Watch includes a stopwatch with split-screen function to help your interval training, so you'll be in top-notch shape when the surf breaks double overhead.
Piece of Garbage for $50
Familiarity:

I've used it once or twice and have initial impressions
It specifically says in the description that this watch is good for surfing, yet the wristband is falling apart after first time in the water. Freestyle is telling me the band is not covered under warranty and want me to pay to have it fixed. Don't get this canvas band watch if you intend on using it during any kind of physical activity... even though that's how it's advertised.
Unanswered Question
Hi, I just received my Shark Freestyle...
Hi, I just received my Shark Freestyle watch. I did not get any instructions so I can't program it. Can you help me?
Unanswered Question
I own a freestyle shark with nylon band....
I own a freestyle shark with nylon band. The watch died after 4 years and I bought and put in a new battery. The watch works, but the numbers aren't always readable or complete. Is there hope or a way to reset it so the numbers register properly or do I need to get a new watch?
The wrist band is way to short. I don't have a big wrist and have to put it in the very first hole from the end and then the end of the band isn't long enough to stay tucked under the guard strap. Keeps popping out. After having it for 6 months with only normal wear the end where the pin connects to the watch broke off. Very disappointed. I had the same watch before and it lasted until the battery ran out. Went to get the batter changed where I bought the watch and after they changed it the watch no longer worked. You couldn't push the buttons to set the time etc. Really upset as I loved the watch. Thought I would get at least 5 years out of the new one but then the end broke off and of course I did not keep my receipt when I bought it so am totally out of luck on that one too..
Looks nice, works nice. Doesn't hold up to an active lifestyle. Had to return for a second time, and not getting it again. First one of the buttons popped off, sent it back and got a new one. The second one the clasp broke. Get something a little better that will withstand the rigors of an active lifestyle. I wore it during snowboarding, whitewater rafting, hiking, running, biking. And it didn't last more than a few months.
what type of clasp does it have? i'm looking...
what type of clasp does it have? i'm looking for one that interlocks, like the ones on a harness.
I'm assuming that you mean the two D-ring style clasp when you say you want one like a harness. This isn't it. This looks like a belt buckle style clasp.