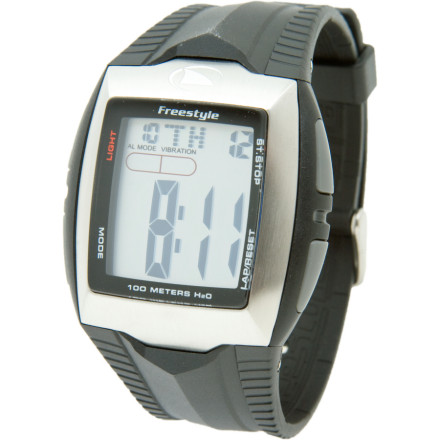 Detail Images
Wake up among the remains of an epic beach party (that may or may not have occurred the night before) with the Freestyle USA Shark Buzz 2.0 Watch. You weren't smart enough to stop drinking before you blacked out, but somehow you did manage to set your alarm on your Shark Buzz 2.0 and it vibrated you out of your beer-induced coma so you wouldn't miss work.
Battery Fail (2 days)
Familiarity:

I returned this product before using it
Bought on Steepandcheap. My battery lasted 2 days and died. I paid $7 to ship the watch back for my $30 refund... :(
I bought this watch on WhiskeyMilitia about three weeks ago to replace a watch claimed by the great mid-Atlantic. The battery already died on me, I think. I didn't think too much of it, but then I found a lot of bad reviews about this watch on Amazon that I didn't see til today. From those reviews, it looks like this is a common problem with these watches. Even worse of a problem is that I got a nasty tan line from wearing a watch all summer.
I just bought this watch and it arrived right on time.

It looks an feels great, and isn't too expensive.

Good work Freestyle on making a solid watch.

Highly recommend for anyone wanting a good looking digital watch!