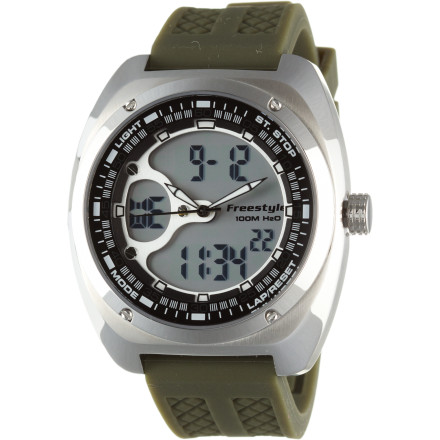 Whether you're about to leave the house for an afternoon trail run, quick hike, or backpacking trip, slap the Freestyle USA Contact Watch on your wrist.
Stainless steel housing and silicon strap material for durability, longevity, and a solid look
Water resistant up to 100 meters
Touch analog-digital display
Calendar features day, date, month, year, and moon phase
Time and dual alarms keep you on track
Chronograph with 50 lap memory
Count down timer with repeat
Warning: Avoid exposing the Contact watch to extreme temperatures such as in a hot tub or sauna as the combination of extreme heat and water may cause your watch to lose some of its water resistance
Too big, too few features
I adored the look of this watch's face, and I was able to nab this watch on SAC for $65. I was excited to get it, but I was thoroughly disappointed when I finally got it.



They don't show the side view, but this watch is hella-thick! Being made out of stainless steel, it's also super crazy heavy. So much so that it's top-heavy and wants to rotate on your arm, so the silicone band causes chafing.



The worst thing is that this watch doesn't even have the features to make it so heavy! It has touch screen, but it's finicky and difficult to work. It seems more like a gimmick than anything. Other than that and moon phases, there's really nothing special about this watch besides its beautiful front face.



I do not recommend this watch to anyone. There are far cheaper and more useful watches out there that won't break your wrist.