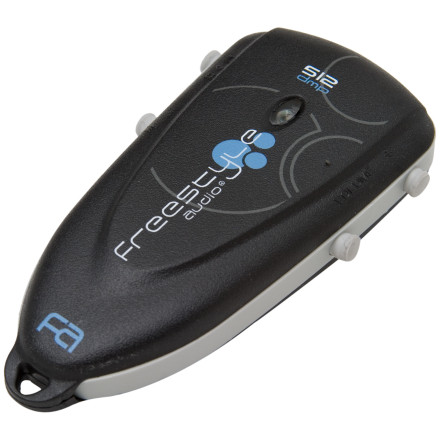 Share your thoughts
What do you think of the
Freestyle Audio
FA DMP 512MB MP3 Player
? Share a...
This thing does its intended purpose very well. It has good sound quality and is nigh indestructible. The fade in/out effect when powering up/down is a nice touch I think. I've used it wakeboarding and skiing with success. Battery life is excellent (partially due to no screen probably). Mine has to get at least 10 hours on a full charge.

There aren't many cons. Sometimes when it's in my pocket the play button will get pushed and it will be playing for a long time without me knowing. I certainly don't have a problem with pushing the buttons when I mean to. Also the included headphones are not the greatest sounding, but what other headphones do you have that can work underwater?
Never worked for me. Neither unit (I bought two) would mount on my mac for more than 30 seconds and when I did get music loaded from a PC, neither played.
VERY GOOD !!! WORKS GREAT !!!!
Cool idea, too bad it doesn't work
The buttons were very hard to push, and it was almost impossible to turn on. It did not connect to Rhapsody or my media player. Also, the earbuds were uncomfortable and hurt my ear canals.
Probably better to just get a waterproof case with headphones, and use a normal MP3.
I tried two of these, and am giving up.
Great idea- it just doesn't work
This would be a lot of fun, but the buttons were really hard to push, and I had a hard time turning it on and off. Sometimes it worked, sometimes not.
The earbuds were not comfortable in my small ear canals, but you can substitute the buds from sony earbuds or skull candy. I've bought two of these and had problems with both-maybe it's just luck, but I'm not going to try again.
Player is not fancy. Plays songs in order - can skip forward and back, but no shuffle, song search, etc. Sounds good, earbuds are comfortable, great for swimming laps. I hate swimming in silence now!

If you don't expect this to compete with the iPod as far as features, you'll be happy with the player. Great waterproof player for the cost.
Freestyle Audio FA DMP 512MB MP3 Player
This player sounds great until water leaks in around the bud phones. Moving through the water moves the buds allowing the water in. Would be good for snorkeling or slow swimmers.
really disappointed with it
let us then, as you put it, "cut to the chase": the player simple does not work at all. i've send 4 e-mail's already to your technical support, but the anwsers have been far from useful. They just repeat what's in the user's guide. for that i can read myself, dont't bother! As you can immagine i'm preaty desapointed and not pleased at all.
This is awesome for any serious water lovers! I live in the caribbean so i am constantly in the water. The MP3 player works really well. I have taken it snorkeling and when I do my laps. It it is awesome if you love to swim but get bored in the water. I also use it alot when I do outside work. It is really heavy duty and with the underwater ear buds I can even hear my music when I am mowing the lawn! The only drawback I have found is that if you get water in the earbuds you have to stop and clear them or the sound is muffled. This can mostly be avoided if you have them in before you get in the water. Also if you down more than 6 feet it is also muffled due to water pressure; but hey you can't change that so.. :) Overall great product! I love mine!