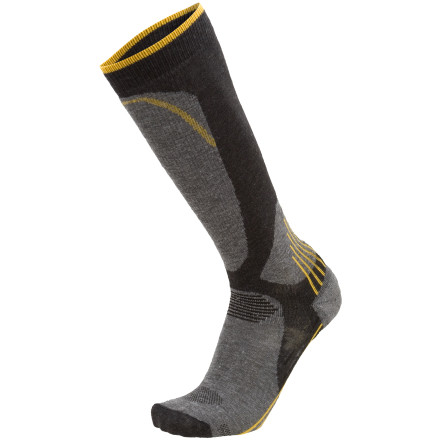 Fox River's Rocky Lightweight Ski Sock helps you stay dry and warm in your ski boots whether you're carving the spring corn or hiking for that perfect line. Fox River made the Rocky Ski Sock with a blend of high-wicking material and added a little stretch for a comfortable feel and memory fit. Great for warm days on the mountain, the Rocky pulls moisture away from your foot, leaving you warm comfortable and ready for long days on the mountain. Light padding in the shin and sole provide shock-absoption and a flat toe seam puts and end to toe blisters and irritation.
Not just for skiing
Familiarity:

I've put it through the wringer

Fit:

True to size
Definitely lightweight. I was hoping it would run closer to mid weight but they have worked out fine. No blistering, ripping, or major wear after a full season. They work well enough that I know wear them hiking too. Run true to size after first wash but also stretch after wearing. Not the best multi-day ski sock.
A durable, warm, breathable, thin ski sock is a hard thing to find, but the Rocky sock fits all of these categories perfectly.

Pros: The wool/synthetics blend combines all of the benefits of wool with all of the durability of synthetics. Fits like a dress sock and is easy to squeeze into my super tight boots. Plenty of padding, but only where it is needed (full shin, heal, ball of foot, and toes). Very breathable and keeps the feet dry, but they are still able retain some heat (I used these in -12F temps and had no problems). Extremely flexible, does not restrict movement or circulation and won't fall down into the boot.

Cons: Haven't found one yet!

Overall: The best sock at an amazing price. Blows some $40 pairs out of the water.
Any idea about the sizing on these?
Any idea about the sizing on these?
These socks run pretty true to size. I recommend that you follow the size chart before you purchase. I am a size 11-11.5 and the large fit me perfectly. If your feet are any smaller than a size 9, go with the Medium, any larger than size 13, pick the XL. The height will depend on your overall body size. I'm about 5'10" and these stop just below my knee.
Take your time looking for a good thin sock. These are great by the way. Warmer than they actually describe here, thats if you have the right sock/ski boot fit. If you can wear thick socks while skiing, then your boots are too big. A thin sock is key to getting a good fit. These socks are very nice!
I haven't skied in these yet but I tried them on and they were what I can never find -- a good thinner sock. I like the control of a thin sock to alpine ski in. I usually have to resort to a dress sock which have ridges that don't feel good or a thin nylon which don't wear well and give me something that feels like shin bang.
With a ridiculous heel pocket and lightweight/thin profiling, these quickly became my socks of choice over Icebreaker (I know, I'm sorry), Smartwool (sorry again) and even some snowboard brands like Volcom and eesa which were more stretchy but less comfortable over time. Merino wool is great but spandex and polypro will only enhance the socks performance and ability to retain it shape without over powering the Merino's mysterious magic. It's called a ski sock, but I snowboard in them, I know Fox River makes a snowboard sock but the heel and ankle detail on these just make it a good sock no matter what you're up to. There are no awkward seems to get in your way and they're sized appropriately which is a first for me in any sock- buy according to the size chart. Get some!