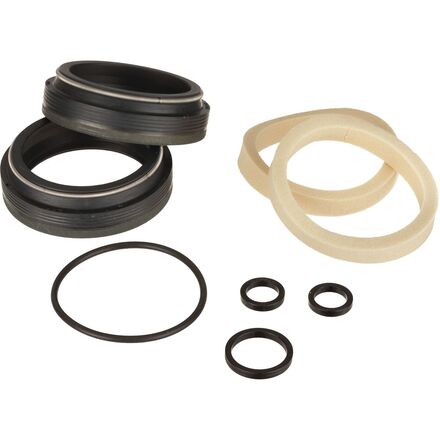 Colors
Description
Remember to wipe.
The Fox Dust Wiper Kit works with Fox's ultra-smooth Kashima coating to make Fox forks some of the smoothest-functioning in the industry. Unfortunately, dirt can eventually cause the seals to leak and will need to be replaced when the fork is overhauled.
Fox partnered with legendary seal manufacturer SKF to develop it slow-friction fork seals. They are an important first line of defense in keeping your fork functioning smoothly.
Designed with SKF
Kit contains dust seals, lower seals, and crush washer
Unanswered Question
My Fox Float RL shock dates back to about 2002 or 3. do I need a different wiper kit?
be careful, image does not match product
silly me, I went by the image but did not search for other examples of flangeless dust wipers. The image on the website shows the old style dust wipers, not the flangeless ones. Dont make my mistake, double check which ones you have before ordering..... especially before pulling the old ones out of your fork like i did :-/



in my picture the old seal is on the left (the one shown on the website) and the flangeless seal is the one on the right.



I gave it 5 starts because i have replaced my FOX wipers many times before and they have always performed flawlessly :-)
Preventive Maintenance
Familiarity:

I've put it through the wringer
Fox recommends to service your fork every 60 hrs. There are hundreds of how to videos on you tube to help you service and rebuild your fork. These seals are the factory seals that fox uses on all of their forks. Comes with seals, dust wipers, and crush washers. You will need to purchase fox suspension oil and lint free rags too be able to change out the seals. If you have questions feel free to shoot me an email at ddalton@backcountry.com
Show your fork some love.
Familiarity:

I've put it through the wringer
Besides my own fork I have done several for friends. The are always amazed by the improvement and how dirty the old parts are. If you wait more than a year there is probably zero lube in the lowers and some excess in the air chamber. Expensive part to let go to hell when it is so easy to service.
Doin' it on the cheeeeeap!
Familiarity:

I've used it several times
Lazy approach scenario: You go and drop your bike off at the shop... They charge you anywhere between $30-40 bucks for this kit, and then another $50-70+ for the labor. Adds up quick, doesn't it?!



Watch a few vids on the internets, and seriously, you're good to go. The first time doing it may take some time; be patient though, once you get it dialed in, the second and third time will feel like a breeze.



Show your forks some love already. Drink a beer afterwards, or do what I like to do, during and after.
Get your self some.
Familiarity:

I've put it through the wringer
Even if your not going to perform the task, they are probably cheaper than at the shop. Don't find out the hardway and have you shock serviced. Clearly it all depends on how much you ride and how often you will need to do this. The kashima coating will get worn away easily below the seal after time if you don't change these seals.
Huge Improvement
Familiarity:

I've used it several times
Pretty straightforward product here... but if you are wondering whether or not it's worth it to service your fork, IT IS! Grab this kit and some oil and you and your fork will be glad you did. Keeping fresh seals and oil in your fork is essential for performance and longevity. Rebuilding the damper itself is quite a bit more involved, but if you aren't comfortable with that you can just do the oil and seals at home fairly easy with basic tools and skills and that will still be great for your fork! Then maybe at the end of the season either take on the damper service, or take it to your local shop, or send it off to Push.



All you need (besides tools) is this kit, fork oil (for my 2013 36 float 160 fork I needed 30ml of green 10 wt fork oil in both legs), and a couple of float fluid packs. And here are the instructions I used:



http://service.foxracingshox.com/consumers/Content/Service/Forks/36FLOAT/36FLOAT_RC2.htm
Does this kit come with the float fluid...
Does this kit come with the float fluid pillow packs? I heard they do but not sure.
No. I bought two pillow packs, which was perfect. One to lube the foam rings and one for the air chamber.
Fox rebuild
Familiarity:

I've put it through the wringer
Refresh your forks and shock with a rebuild kit a couple times a year and experience a much plusher ride.
Rebuilt my fox fork at the beginning of the year and it is running much smoother then it was before. The new seals really made the difference.
If you are rebuilding your Fox fork you need these. Wipers are fairly cheap to replace and will save you a lot of headaches in the future. Sizes are based on the diameter of your stanchions.