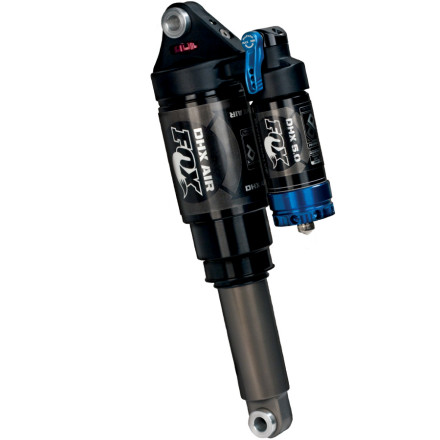 Fox designers are extremely sensitive when it comes to four-letter words and 'your mama' jokes. They flock to the box office when the romantic comedy hit of the summer premiers. Fox has taken that sensitivity and designed it into their top big-bike rear shock, the DHX Air 5.0. Unlike its designers, the DHX 5.0 can handle the nastiest abuse that you can dish out, while smoothing all those little stutter-bumps between big hits so you can maintain laser-precise control on any terrain.
Ultra-light weight for DH flickability
Extra-large-volume air spring and Boost Valve damping smooths out everything from washboard to big drops
Propedal technology reduces pedal bob for increased efficiency
Independent adjustable bottom-out resistance for customized shock-progression and feel
Adjustable tuning range for different rider weights and terrain conditions
Great air shock. I have ridden and adjusted a few long travel air shocks and this one is by far the best. The owners manual is easy to figure out and adjusting your settings to you're liking is really easy.
The pro pedal system is easy to use (just the flick of a switch) and it eliminates a ton of pedal bob.

Bottom line: Great shock, easy adjustments
Unanswered Question
I have a 2001 specialized FSR enduro expert...
I have a 2001 specialized FSR enduro expert and Im considering upgrading the shock. I currently am running an old Helix XC pro. The length from eye to eye is 6.5 inches. Can I run the DHX on the stock link or do I need to upgrade that as well. I know the DHX is 7.5 inches long. Just dont know if my bike will take that extra inch..so to speak
Great shox, Fox is the bomb
All I have to say is awesome. I'm rediculously picky with the performance of my front and rear shocks and the downhill air didnt let me down. Had the rp23 on my nomad carbon and it was ok but there was no difference with propedal on or off. Got the dhx and was instantly impressed. With propedal turned on the bike pedals like a cross country bike with no bob at all and still made large rock gardens feel like butter. Love the bottom out adjust. Keeps getting better the more broken in it gets. Definetely won't let you down. I've had the marzochi tst air , fox rlp and rp23 and the dhx blows them all away.