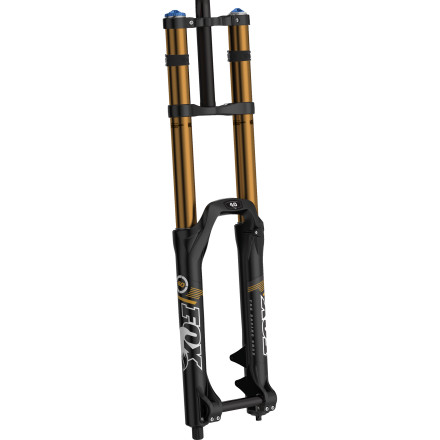 Detail Images
The Fox 40 FIT RC2 Fork continues its reign as Fox's ultimate gravity offering. Packing the refined FIT RC2 damper, a World Cup-proven chassis, and 203mm of travel, it'll continue to be the fork of choice for both park riders and competitive athletes alike.
At the heart of the 2013 40 is the FIT RC2 damper, it's a cartridge unit that uses an expandable bladder to seal suspension oil from air. This allows the damper to provide consistent action during heavy-duty use. For fine tuning of the fork, along with rebound, it has separate, external, low- and high-speed compression tuning.
The LSC adjustment permits you to dial the fork to resist g-outs on high-speed berms or to help prevent travel loss due to brake dive. Alternatively, you can set the fork up to be incredibly sensitive and compliant to small-bump chatter. With the HSC you can change the fork's reaction to large hits from drops, ledges, and jumps for optimum control.
Another nice feature of the FIT cartridge is it's inverted so, unlike the older, open-bath forks, oil weight (which is lower as well due to less volume) is contained and not adding to the fork's unsprung weight. This, combined with a titanium coil spring and durable, friction-reducing Kashima coated stanchions, results in a very responsive fork for the ultimate in control and traction.
The Fox 40 RC2 FIT Fork is available in White or Black. It comes with a straight 1-1/8in steerer tube, and the upper crown is compatible with direct mount stems. The left leg has ISO brake tabs and will directly accommodate an 8in (203mm) brake rotor. It has two pinch bolts on the bottom of each leg to secure the included 20mm thru-axle, and an integrated hose guide to route the brake hose a clean look.
What do you think about this product?
Have questions about this product?
Do you guys sell the Titanium springs for this fork?
Sorry, we do not stock any of the springs.