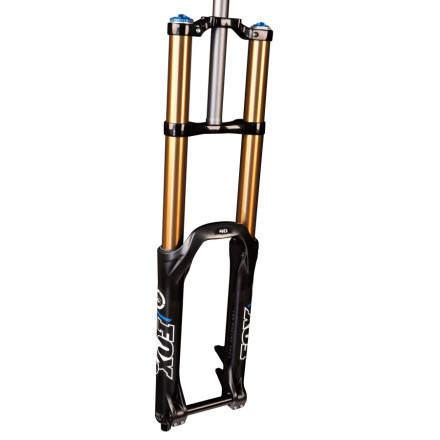 Riding over that shorts-filling drop just got a little cleaner, thanks to the Fox 40 RC2 Direct Mount Fork. Eight inches of adjustable travel soaks up just about anything the trail throws at you, and does it with style and ease.
Travel is adjustable from 8 to 6.5 inches in half-inch increments
20mm thru axle completes your strong-as-hell front end
All-new inverted FIT RC2 damper provides fade-free damping and puts the compression adjust knob on top and the rebound adjust knob down low
Kashima Coat on the stanchions reduces friction throughout the fork, improving performance and durability
Fox Shox 40 RC2 In Action
Old footy, but inspirational.
It sucks that the one titanium spring is meant for a kid. I had to order the yellow spring cause im fat. go to Bikesdecals.com to get any color decal for the fork.
2011 Fox 40 FIT RC2 Review
Rode today and it was so nice to get out and ride some dirt again. Spinning in the garage is not quite the same, duh! Finally had the pleasure of putting my new 2011 Fox 40 RC2 through the paces and it has impressed me. The fork is unbelievable. The fork is stiff, tracks incredibly and the valving is worlds different than my 2007 Fox 40 RC2. I am currently using 9 clicks out from full closed on rebound, 8 clicks out from full closed on high speed compression and 9 clicks out from full closed on slow speed compression. These settings seem to be working pretty well. I am going to try 1 more click in from full closed on the rebound and compression and see how that feels. The bike was feeling a little bit bouncy coming down off a bigger hit into a high speed G-out.
I will add more to the review such as longevity, tuning etc. in the future to my blog! www.christiankoblitz.com/blog
Can I trade my wife in for one of these?
Can I trade my wife in for one of these?
, ☃bcs_badge_alumni_label☃
Keep the wife. Maybe you should just dip into the kids college fund... We won't tell, they'll never even notice :)