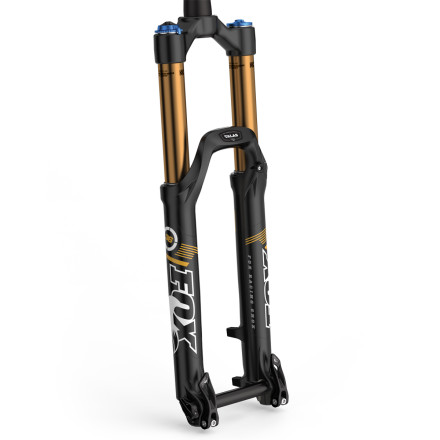 It goes up, it goes down. Up and down the mountain, the Fox 36 TALAS 160 FIT RLC Fork offers up supreme performance. The beauty of it all is how easy the TALAS travel adjustment is to use and how it can transform your bike from a mountain goat to blazing downhill demon with the twist of a knob on the fork crown.
Fox's TALAS or travel adjustable linear air spring system gives you the ability to drop the 36 from its 160mm (6.3") full-travel mode down to 120mm (4.7"). The advantage you'll feel is on the climbs. Drop the fork and your weight balance will be optimized. You'll wheelie less, have greater steering control, and your long-legged bike will feel more like a cross-country racer made for that kind of effort against gravity. One great aspect of the TALAS system is that your spring rate doesn't go ...one fork to transform your bike from downhill demon to agile mountain goat... through the roof when you make a travel adjustment. Up or down, you'll have similar sag and bump response, so set the air spring to your weight and preference and go ride.
The FIT RLC damper in the right leg keeps things under control, even when you're getting rowdy on the descents. The FIT system uses a damper cartridge whereby the suspension fluid is sealed away on its own. There's no chance for any mixing of air and the resultant foaming and loss of damper performance. It uses less oil than open bath designs, so it's lighter, and the sealed nature keeps contaminants out of the fluid. Less junk in the fluid means better performance and longer service life. The FIT cartridge has a rubber bladder that allows fluid expansion as the suspension components heat as the fork cycles up and down. So for burly descents, the damping properties will remain consistent from top to bottom.
The RLC damper offers plenty of external adjustments to satisfy even the most fastidious of suspension nerds. You'll get low-speed compression and rebound damping adjustments as well as a lockout threshold adjustment that allows you to set exactly how much force it takes to 'blow' through the lockout and absorb big hits. The lockout lever is easy to reach on the right side of the fork crown.
Fox dampers have an excellent reputation for silky performance. But the Kashima Coat on the upper tubes makes them even more buttery. The process starts with raw aluminum and molybdenum disulfide is added to the surface via an induction process that deposits the material into pores to the effect of 70 billion pores per cm squared. The MoS2 adds lubricity, extending the life of the tubes as well as greatly reducing friction. This reduces stiction and makes the fork more responsive than ever over small bumps, an impressive feat for a fork already regarded as having the best small bump performance.
The Fox 36 TALAS 160 FIT RLC Fork comes in one color that tells a bit about where you can ride it -- Black (as in black diamond runs). The beefy 36mm chassis is stiff and strong, made even better by the inclusion of a 20QR thru-axle system. It makes for super precise steering and wheel removal is painless, quick, and tool-free. It has a 1-1/8" to 1.5" tapered steerer. Fox 36 160mm forks have post-style disc brake mounts that will accept a direct caliper mount for 160mm rotors.
US Fox dealers are prohibited from shipping Fox Forks outside the US.
Travel adjusts from 120mm to 160mm for climbing efficiency with freeride performance

Kashima Coat reduces stiction and adds durability without adding weight

Lever-actuated lockout eliminates fork bob during climbing and can be adjusted to compress slightly to improve tracking or be locked out completely

Low-speed compression adjustment allows the rider to dial the fork's feel on smaller bumps and washboard surfaces

The 20mm QR thru-axle for super-high strength and stiffness with quick-release convenience

Share your thoughts
What do you think of the
FOX Racing Shox
36 TALAS 160 RLC Fork - 2012
? Share a...