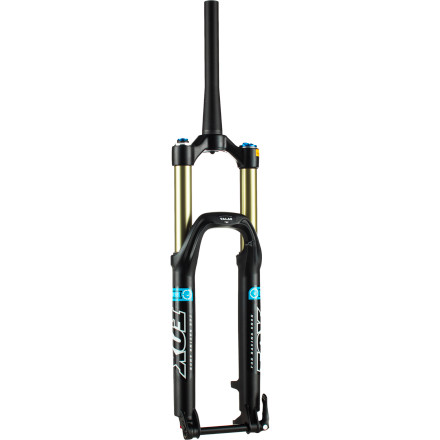 Detail Images
It's not uncommon for trailside banter to include a jab at someone's 'brand new' equipment that, in actuality, is little more than an update in color. And, it may look like just that on the outside of Fox Racing Shox's 34 Talas 27.5in 150 with CTD-Remote. However, there's much more going on here than meets the eye.
Long-time Fox riders will immediately notice Fox's Climb, Trail, Descend damper adjustments. And there's no need to worry, you're still getting the same adjustments to high- and low-speed compression, only it's now packaged in a more user-friendly format. Climb mode provides the most damping for a near locked-out feel. Meanwhile, it still provides a bit of cushion for any unexpected hard hits. Click the damper into the Trail mode, and you'll find that there's ample low-speed compression in order to keep the fork riding high in the travel through berms, jumps, and rocks. Better yet, it still provides plenty of compliance in order to smooth out the ride. And, as you may have guessed, Descend mode provides the lightest compression damping for a plush ride.
Talas stands for Travel Adjust Linear Air Spring. And true to the name, a quick flip of the spring side fork cap adjusts the travel from 150mm to 120mm, and back again. Accordingly, the 120mm setting lowers the axle to crown height by 30mm. This effectively lowers your handlebars and bottom bracket, as well as steepening the head angle in order to improve climbing control. The reasoning behind this design is relatively elementary. You see, tall forks and slack head tube angles yield more control for descending, but make your bike unwieldy when climbing. This makes the Talas' travel reduction especially important on the current generation of trail bikes. Additionally, Fox has updated the spring rate to provide more resistance to bottoming out than previous Talas springs. So, this version of the Talas is ideal for aggressive riders.
The 34 Talas 150 is strong enough to ride rough trails day- in and day-out. This is thanks in part to the massive tapered steerer tube, which fights flex under hard braking. And speaking of stiffness, Fox uses Shimano's 15mm QR axle assembly, which provides both added stiffness and increased security over a traditional 9mm QR skewer.
The Fox Racing Shox 34 Talas 27.5in 150 with CTD-Remote has a post mount front brake interface and a 1.5in tapered steerer tube. It is only available with black lowers, and it's only compatible with 27.5-inch wheels.
Unanswered Question
How much does this fork sell for?
Is this fork part of the recall issued by...
Is this fork part of the recall issued by Fox?
http://www.ridefox.com/content.php?c=recall#recallinfo
Best Answer
Yes, this fork will kill you for sure. It will break in half, explode into a ball of flames and incinerate your body.



But it's against the law to sell products under recall.
Jarp68371's answer is much better than any I could ever come up with. I respect his brutal honesty. However, I will clarify that we do have more of these forks coming in and they will in no way be effected by the recall. Please check back with us soon.
"it's only compatible with 27.5-inch...
"it's only compatible with 27.5-inch wheels." Is there a reason why you can't use a 26in wheel?
Best Answer
I use a 650b pike on my 26 inch bike with no issues, it will work fine, just ride a little taller is all. I will have a 650b bike next season so I just got a fork I could use on that as well.
It will alter the geometry and void warranties.
What model year is this fork?
What model year is this fork?
It is a 2013. I asked the chat help the same question
Does this fork have kashima?
Does this fork have kashima?
looks like it doesnt, just has oem coating.