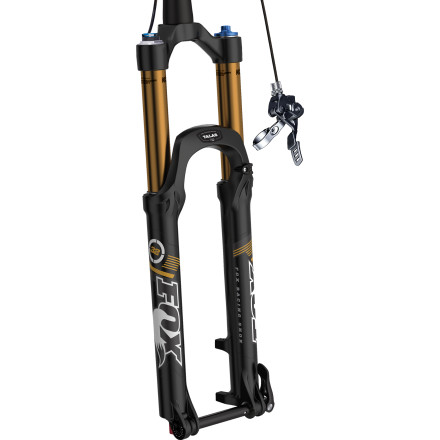 While certainly ideal for aggressive riding, or mitigating a poor line choices, long travel forks leave a lot to be desired when pointed uphill. Fox takes care of that problem with its travel adjust system, found here on the 2013 Talas 32 140 CTD FIT Fork w/Remote. With the flip of a lever, you can drop the travel from 140mm to 110mm — and, that's just the beginning of the Talas' versatility.
Fox forks have traditionally been featured packed, offering the ability to make all adjustments needed to tune the fork for any condition. The only problem was the difficulty for the average rider to make knowledgeable tweaks to the forks. High- and low-speed compression, lockout threshhold, preload, and rebound are all common adjustments, but, for the guy who wants to ride, and not relentlessly and aimlessly tune a fork, this can have a negative result on performance and user experience.
With CTD (climb, trail, descend), Fox's new approach to damping, one lever (a newly designed bar mounted unit in this case) quickly and easily switches the fork's compression to the ideal settings for the task at hand. The climb setting adds plenty of low-speed compression to mitigate bobbing when standing on the pedals. Trail mode offers moderate low-speed compression to balance efficiency with optimum trail manners, and it's also independently adjustable with three settings; soft, medium, and firm. Finally, the Descend setting features high- and low-speed compression for plush action on steep and aggressive sections of trail.
Another key feature to the new Fox forks is the redesigned spring curve for forks 130mm and above. There's now a more linear spring rate. This is achieved by using a longer negative spring and by reducing the air spring's compression ratio. The resulting curve gives these air forks a more coil-like feel, and it also uses more of its travel because the preload won't ramp up.
More good news comes from the lowers as well. For 2013 they are 50 grams lighter than last year's comparable model. While that may not seem significant, keep in mind dropping mass from the lowers effectively reduces un-sprung weight — which affects the amount of inertia the damper needs to control, resulting in enhanced suspension action. To drop the weight, Fox's engineers retained the Float's respected torsional stiffness by redesigning the brace, dropouts, and wall thickness.
The 2013 Fox Talas 32 140 CTD FIT Fork w/Remote comes in Black with the smooth and durable Kashima coating on the stanchion tubes. The fork comes with Fox's newly designed handlebar mount that's versatile enough to mount above or below, on the left or right. It's offered here with either a straight 1-1/8in steerer, or a tapered 1.5 to 1-1/8in steerer. Both utilize the stiffness-enhancing 15QR axle.