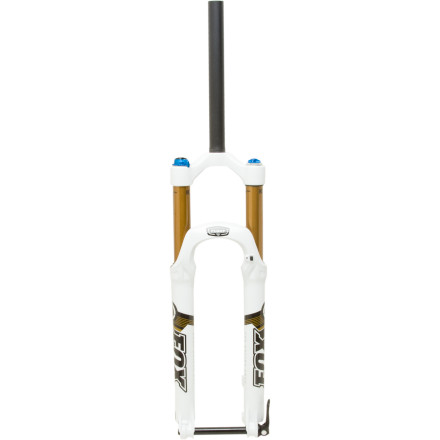 Detail Images
Light as air isn't far from the truth. Fox's Float forks use air springs to keep the weight to a bare minimum for a fork capable of gobbling roots and rocks for breakfast, lunch, and dinner. And without the complexity of a travel adjustment, the Fox 32 FLOAT 140 RLC FIT Fork is perfect in its simplicity, lightness, and function. The FIT damper and Kashima Coat coordinate to make this fork ready for anything. Look out mountains. Look out trails.
The Kashima Coat is what gives the stanchions their golden color. And this year, Fox has gone to great pains to ensure consistency in this finish color. Last year's variability had no effect on performance, it was just weird to look down and see two different colored upper tubes. To make these stanchions so buttery, they start with raw aluminum and add molybdenum disulfide via an induction process that deposits the material into pores in the surface to the effect of 70 billion pores per cm squared. The MoS2 adds lubricity, extending the life of the tubes as well as greatly reducing friction. This reduces stiction and makes the fork more responsive than ever over ...the Kashima Coat and FIT RLC damper ensure smooth bump performance and tuneability for your trail bike... small bumps, an impressive feat for a fork already regarded as having the best air sprung small bump performance.
The 15QR system on the lower legs is noticeably stiffer and yields greater tracking and steering precision through rough terrain than a quick release. In fact, the added shear stiffness of the 15QR improves the fork's bump eating performance because the fork legs just cannot move independently. This avoids binding of the upper legs in the bushings, further reducing friction. Take away friction and you'll have better performance and a smoother, more controlled ride. Guaranteed.
The FIT cartridge damper improves upon Fox's already legendary damper feel by sealing the fluid inside a bladder to eliminate the chance of fluid aeration. By eliminating mixing, the damping properties will remain more consistent as you ride, especially when charging down rough trails. The bladder in the damper assembly also minimizes friction and allows for internal fluid volume changes as the fork heats up. And, because it uses less fluid, it shaves weight from the FLOAT forks. With the FIT RLC damper, you'll get low speed compression and rebound adjustments in addition to a crown mounted lockout. It has an adjustable lockout force knob, allowing the rider to control the desired amount of blowoff when locked out. The Float air spring yields a more linear feel, giving you a sensation of buttery smooth small bump response and access to the full range of travel, yet you'll still get no harsh bottoming. The wide range of adjustment for the compression and rebound settings make this fork highly tunable for a wide variety of terrain and riding styles. And for those who ride with long-fingered gloves, you'll be glad to know that the redesigned lockout lever is easier to use than ever.
The Fox 32 FLOAT 140 RLC FIT Fork smooths the trail with 140mm (5.5") of travel and is available with two steerer options -- 1-1/8" straight or 1.5" tapered. The White powdercoated legs have an integrated brake hose guide on the fork arch. It has lightweight post-mounts for your disc brake caliper and the Fox/Shimano designed 15QR thru-axle system.
US Fox dealers are prohibited from shipping Fox Forks outside the US.
FIT damper technology separates air and oil for consistent damping in all conditions

15QR axle increases front-end stiffness for steering precision

Kashima-coated stanchions provides smooth action out of the box, and boost durability

What do you think about this product?
Have questions about this product?
is the travel on this model adjustable...
is the travel on this model adjustable (140-110) or set @ 140?