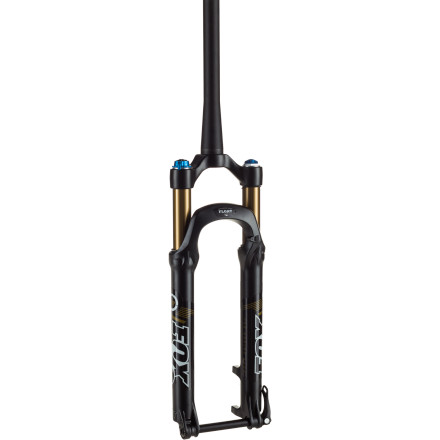 Detail Images
The Fox Racing Shox 32 Float 100 RLC FIT Kashima represents a new area for cross country race forks. Once, tapered steerers and thru-axles were solely reserved for the boom-boom-huck crowd. However, their advantages far outweigh the negligible weight increase, and thankfully, they're now the standard for XC bikes, too.
We've come a long way since the days of squirrely, 28mm stanchions and road-bike-based quick releases. Now, features like the Fox Racing Shox 32 Float 120 RL's tapered steerer tube, hollow truss-to-seal flange, and 15QR axle ensure minimal weight, but more importantly, it enhances overall chassis stiffness for unparalleled steering precision and ride dynamics.
Complementing the 32 Float 100's flex-fighting chassis is Fox's FIT Damper. This unit employees a bladder to keep air and oil from mixing and negatively affecting performance. If this step wasn't taken, fluid aeration would result in a reduced dampening that would cause the fork to lose its ability to control movement.
The FIT damper, unlike open bath dampers, is also inverted. This means that the fork's unsprung weight is lower for less inertia to control, resulting in a more sensitive, plusher fork. The fork uses an air spring that's simple to adjust preload via the top cap mounted Schrader valve. Under the right leg there's also an indexed rebound adjustment knob.
For efficient climbing, there's a lockout that's activated via a crown-mounted lever, with a compression adjustment as well.
The Fox Racing Shox 32 Float 100 RLC FIT Kashima uses a post-mount front brake and comes in the color Black with Gold logos.