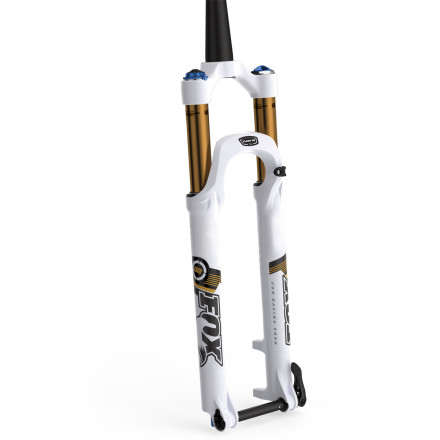 Just because you like your big wheels shouldn't mean that you can't have a little fun. The Fox 32 Float 29 120 FIT RLC Fork will give your 29" bike some longer legs to stretch out and enjoy some tougher trails. It has 120mm (4.7") of plush air sprung travel controlled by Fox's top-of-the-line FIT RLC damper.
One detail that takes the buttery feel to the next level is the Kashima Coat on the upper tubes. It's what gives them that distinctive gold color. Basically, Fox starts with raw aluminum stanchions. Then they add molybdenum disulfide via an induction process that deposits the material into pores in the surface to the effect of 70 billion pores per cm². The MoS₂ adds lubricity, extending the life of the tubes as well as greatly reducing friction. This slicker, more durable finish combined with the re-tuned air spring allows the Float 29 to be run at slightly lower pressures. It has a more linear feel, giving you a sensation of incredibly smooth small bump response and access to the full range of travel, yet you'll still get no harsh bottoming.
The FIT cartridge damper improved upon their legendary open bath damper by sealing the fluid inside a rubber bladder to eliminate the chance of fluid aeration and subsequent variations in the damping properties. And, because it uses less fluid, it shaves considerable weight from the Float 29 Forks. The bladder in the damper assembly minimizes friction, allows for internal fluid volume changes, and works to maintain suspension consistency when you're really giving it a workout. With the FIT damper, the rebound adjustment on the fork moves to the bottom of the right fork leg, making it less prone to accidental adjustments. It also includes a low speed compression dial, lockout lever, and a lockout force adjust knob atop the right fork leg, allowing the rider to control the desired amount of blowoff when locked out. The wide range of adjustment for the compression and rebound settings make this fork highly tunable for a wide variety of terrain and riding styles. And for those who ride with long-fingered gloves, you'll be glad to know that the redesigned lockout lever is easier to use than ever.
The Fox Float 29 120 FIT RLC Fork has powdercoated White legs and crown. It has 120mm (4.7") of travel, uses a 15QR thru-axle, and has a 1-1/8" to 1.5" tapered steerer. The lower legs are quad-tapered to lean them out where there's room to shave weight, and at the very bottom are lightweight post-mounts for your disc brake. To make installation easy, and for a clean look, there's an integrated brake hose guide on the fork arch.
US Fox dealers are prohibited from shipping Fox Forks outside the US.
FIT damper technology separates air and oil for consistent damping in all conditions
15QR axle increases front-end stiffness for steering precision
Kashima-coated stanchions provide smooth action out of the box and boost durability