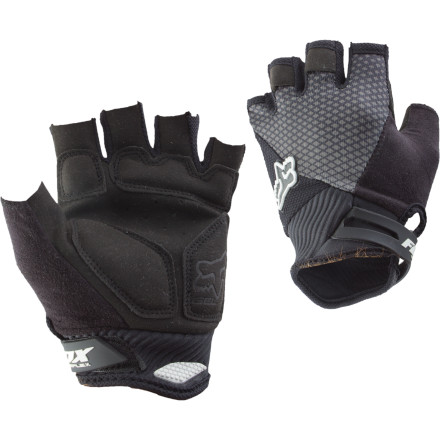 Detail Images

Community Images
You'll give the ample padding and dexterity of the Fox Men's Reflex Gel Fingerless Glove two big thumbs up. Gel palm inserts reduce fatigue so you don't have to slow your roll in the middle of that techy Barney Rubble section, and the fingerless design keeps the air flowing to keep your hand cool all summer.
Just measured my hands, 10.5 inches. Since...
Just measured my hands, 10.5 inches. Since my use will be for a motorcycle and not tight fitting, Should 3XL be about right? Just trying to get a sense of how they are made to fit.

Thank you, Walt. walt3rd1@yahoo.com
Using a fingerless glove on a moto is not a good idea Walt...
like the plastic type stretch band on these gloves
This is my second pair of Fox Reflex gloves. I bought a previous model a few years back. I still use them as my everyday commuting gloves. They are holding strong with what I would consider normal wear and tear. I am really impressed with this new model. The gel pads are more strategically placed a shaped for greater comfort. The styling has been updated and improved as well. The faux leather is awesome. It is great at moisture management, wears well, is easily cleaned, and stays flexible. After using and abusing my first pair and now trying the new version, I can't imagine getting a better deal than these gloves.They are a great value.
These gloves are well made and a lot of thought went into the design. They have a rubber grip sewn at the wrist to pull the gloves on and loops at the end of the fingers to pull the gloves off without tearing the stretch material at the knuckles. Since they are new, they fit snug, but I expect slight stretching over time.