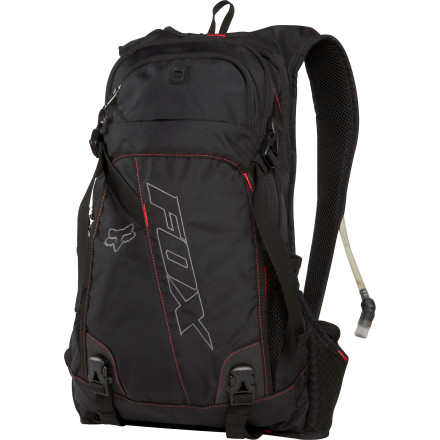 Detail Images
In the fickle world of mountain biking, manufacturers come and go with the changing seasons. Getting on top is tough. Staying on top is a whole different battle. Over the years, Fox Racing has earned the top spot in apparel and equipment and has made it clear that it intends to stay there. In a sport where talk is cheap and innovation rules, Fox has proven time and again that it has the chops to lead the way. The Oasis Hydration Pack is a prime example of Fox's determination to make the best mountain bike gear that money can buy. We wouldn't go so far as to call the Oasis a game changer–it won't change the way you drink or eliminate the need for water altogether, but several subtle improvements over the current designs separate this pack from the, well, pack.

The most important aspect of a hydration pack is, of course, hydration. The Fox Oasis Pack comes with Fox's exclusive Hydrapak reservoir. The Hydrapak features a locking bite valve to prevent dripping during your ride. The hose is also removable to make cleaning easier. The Hydrapak's most innovative feature, however, is the slide seal closure system. Our two biggest gripes with hydration reservoir's have always been difficulty with opening them and difficulty with cleaning them. The Hydrapak kills both birds with one easy-to-use opening system that opens the whole top of the reservoir for easy filling and cleaning.

The Oasis doesn't just work to keep you hydrated, but sets out to keep you from losing a ton of fluid in the first place. Every part of the Oasis that touches you, except the waist belt, is mesh. The curved back panel's perforated mesh padding is interrupted by strategically placed air channels that allow air to flow over your back to keep you cool and dry. Even the contoured shoulder straps are made with cushioned air mesh to promote air flow and wick moisture away for added comfort.
Speaking of comfort, there are times before, after, and sometimes during the ride when your hot, heavy full-face helmet just isn't necessary. For these times, Fox added cinch-down straps to the outside of the Oasis for your helmet and body armor. The large main compartment is big enough for your rain jacket, snacks, and a light lunch. The Oasis also has a fleece-lined media/sunglasses pocket with a dedicated headphone-cord port.
The Fox Oasis Hydration Pack comes in one size and is available in Grey, Camo, and Black. The Hydrapak reservoir is included.