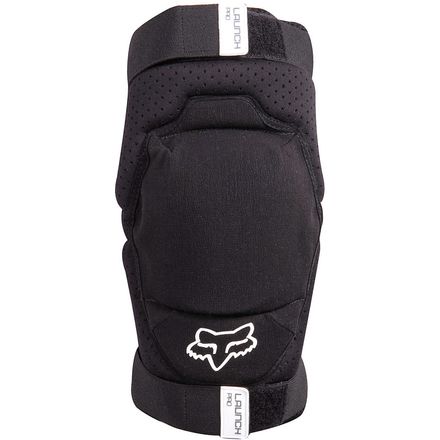 Colors

Community Images
Description
Pedaling is difficult when your knees are trashed.
Go big or go home, but don't go home for the season. The Fox Launch Pro Knee Pad will make sure that you get to go home after going big, rather than going to the hospital. Silicone grip behind the knee keeps the pad from slipping down your leg or shifting in flight, and the pre-curved ergo fit sits comfortably without bunching. The perforated neoprene breathes better than Michel Phelps in the final 50 meters, and the elastic straps on the top and bottom could give your old skate pads a lesson in comfort.
Love 'em!
Familiarity:

I've put it through the wringer
These are super comfortable for pedaling, and have saved my knee from a hard blow today. The fabric ripped just a little bit, but considering the impact this was to be expected. These should still go another season, easily though. My only criticism is that they are a little hot, a little bulky in the pack and do not dry very quickly. Sizing is also a bit wonky. I am in the L/XL size, and I am 5'9 150 lbs and by no means have big legs. They will stretch quite a bit though. I have the Velcro nearly as tight as it can go, but they would stay on without the Velcro as well.
Solid knee pad
Familiarity:

I've put it through the wringer
These things are amazingly comfortable and boost confidence as well. Only caveat is they run small. I don't believe I have big knee/calf, but only the largest size fits me.
Solid
Familiarity:

I've put it through the wringer
These are solid. They have the plastic cups underneath the "durable fabric" to keep it clean looking. Will definitely protect your knees but not shins. Crashed in them already a few times and they are holding up. Also pretty hot for days you want to peddle up, otherwise, super comfy.
Best comfort/protection combo
Familiarity:

I've put it through the wringer
I ride trails, so I pedal up and down on technical terrain, trying to keep up with the guys I ride with, and these are great. Saved my knees from small bruises to big scars. I wear a L/XL size (even though I'm a size 2-4 women clothes) which surprised me, but hey, who cares about a size as long as it fits & feels good + does a great job?
good fit good option
Gender:

Male

Familiarity:

I've put it through the wringer
I keep coming back to these pads and seem to have good protection with comfortable minimal feel because of there soft nature. Pretty hot, no real venting so I end up sweating like crazy but seems to be tolerable, and they stay put event with all that sweating.

I got the L-XL and am about 160lbs and 5-10 the neopreme sleave is fairly tight, I just slip them on and never really mess with the velcro straps, seems like a M would fit better but seems like would be real tight.
Dope S***!
Familiarity:

I've put it through the wringer
Love these pads use them all the time they're great. They stay where they're suppose to are comfortable enough for long XC rides even during the summer. When you fall they do their job and DONT move down the legs leaving your knee exposed and they aren't too bulky which is also a plus. Definitely worth the dough you put out
Save my you know what several times!
Familiarity:

I've put it through the wringer
Worth every penny even if you go down once! Once you put them on they don't shift around and you forget you have them on! They pedal great and after several falls they still look great with just a little more character!
Solid Option
Familiarity:

I've used it once or twice and have initial impressions
While longer/taller than the One Industries Enemy and the 661 Comp am knee guards, these seem more comfortable to pedal in. The side and rear material is ergo formed and very pliable out of the bag. The upper and lower velcro traps make a secure and comfortable fit. Similar options would be the Kali Protectives Aazis Soft Knee Guard and the Troy Lee T-Bone
slide off/can chafe back of knee
Familiarity:

I've put it through the wringer
I bought a pair of XL 661 Rage knee pads at the same time I bought a pair of L/XL Fox Launch Pro knee pads, and I alternate them on my daily mtb rides (6 days/week). I ride 1.5-3.5 hours per day. I wash the pads every 4 days in a front loading machine on delicate.



First of all, I think the Rage knee pads are poor imitations for the 661 Kyle Straight knee pads. Supposedly, the Rage knee pads also have a hard plastic cup covering the knee, but I cannot detect it, so it can't be that hard. In contrast, the Fox Launch Pros have beefy knee protection, so my initial impression was good.



Both knee pads fit snug, but the Rage knee pads stretched out, so I had to tighten the velcro straps more and more.



After 5 months of use, I had four low speed crashes while wearing the Fox Launch Pros, and during the last two crashes the left pad slid off my knee, and I ended up scraping my knee cap pretty good both times (AZ desert trails).



For comparison, while wearing the Rage knee pads I had one high speed crash and a couple of low speed crashes, and I walked away with no damage.



Sometimes while wearing the Fox Launch Pros I got chaffing on the back of my knee from the neoprene(?). On one long ride the chaffing was bad enough that I couldn't wear the Fox Launch Pros again until the sore healed(~week).



The quality of the materials used in the Fox Launch Pros is much better than the Rage kneepads. The velcro on the Rage knee pads has almost completely worn out making it hard to keep the straps sticking. The Fox Launch Pros look and work as they did when new (except for the Fox logos which washed off the first time I washed them).



However, based on my crash results I can't recommend the Fox Launch Pro knee pads.


Good product for the price
Familiarity:

I've used it once or twice and have initial impressions
I managed to tear my right knee up pretty bad on a trail back in august and have worn cheap kneepads since. I upgraded to these recently and am pretty happy with them. My calves are quite large so getting them on is a chore. I ordered the L/XL size. Once on, they were snug and comfortable to rid in.
They're great knee pads.
Familiarity:

I've put it through the wringer
I 'm returning them for a size L, but even with the wrong size they still were relatively comfortable. I heard that they were designed to be in a peddling position but I didn't really understand it until I felt it. Don't let your first minutes walking around in them decide if they're the right fit . They get roomier once your feet are pedaling.
Amazing Knee pads
Familiarity:

I've put it through the wringer
Comfortable and they don't slip. a little hot for xc but provide great protection for DH. Forget there on most of the time. Two seasons of use and they still look good. I even use them snowboarding because they work so well. I use them longboarding because i'm a beginner and i fall a lot. They work well but they will get trashed out if you wear them over your pants. shouldnt complain though because there made for mtb and do a great job for that. Highly Recommend.
Not for people with big legs
Gender:

Male

Familiarity:

I've used it once or twice and have initial impressions
It's too tight, and does not fit. My legs are large (I run, bike, and climb) and this just doesn't cut it. The opening on the back needs to be bigger. It's a case of where less is more... as in more comfort. Maybe it's something you get used too, but it's not for me.
Perfect fit and extremely comfortable!!!!!!!!!!
I was nervous about getting these because of bulk, but they are nice. 6'0, 165 lbs and the sm/m fit perfect. Forget the cost, if you're riding without gaurds, it won't be for long.
Good Fit and Great Comfort
These fit me well and are very comfortable. I bought the L/XL and they fit very snug (secure). My legs aren't huge, so I imagine that these would be two small for some. For me, they're perfect. Fortunately, I haven't tested them in a crash yet. They feel really solid, though, and seem like they would protect me well in a crash.
These knee pads fit well and aren't "grabby" at all. Nice pads that, for all intents and purposes, appear well made. Only time will tell on wear and tear and how long the straps maintain their elasticity. I'm not at all disappointed in the purchase. So far, so good!
Perfect protection and perfect fit.
These are a great fit and an awesome product. I'm very happy with the purchase.