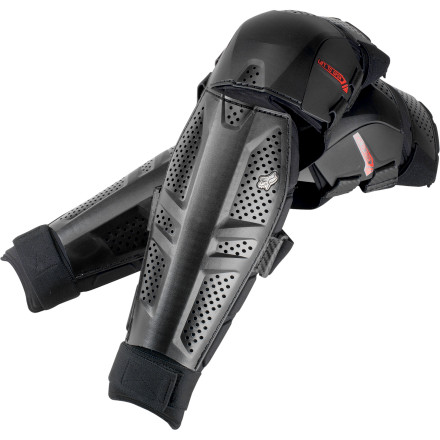 Colors

Detail Images

Community Images
Description
Chicks only dig about 30 scars before they start throwing up, so wear the Fox Launch Knee/Shin guards.
Asymmetrical design, cross-strap security, and vented hard shell plates make the Fox Racing Launch Knee/Shin guard a first choice for elite downhill and freeride mountain bikers. Fox Racing's patented X-Up strap system crosses behind the knee to eliminate twisting and slipping when the terrain turns from rough to sadistic.
Great Fit and protection
Familiarity:

I've used it several times
Well being accident prone I needed something that is pedal bite (and machete) proof. These fit great and offer full knee to ankle protection and are easy to put on and take off.

They do get a little hot during the summer months but in the winter you can wear these with shorts and be good to go.

I haven't ate it with these on yet but I can tell you these are MACHETE PROOF!

10/10 would recommend
I have no complaints
Familiarity:

I've used it several times
I have been riding downhill for years and have the scars on my shins to prove it.... finally decided to break down and get some shin guards when I put a huge gash in my leg on the first ride this season. These guards are great, easy to clasp, they don't rub my skin off anywhere, and I am not sure what some other people here are doing wrong but I put these on in the morning and dont take them off until its too dark to ride and I never have to adjust them or pull them up. Stop contemplating, just get them, you will not be dissapointed, and your shins will thank you later.
Great value for money!
Familiarity:

I've put it through the wringer
I have this FOX lunch guards since 12th Aug 2008. Great value for money. Feels easy and comfortable when they are on unlikes other brands guards. They stays in place even if you are doing drops. This guards had already saved me from a few bad ass falls and it has now got some deep cut battles scar on them. I am 1.78 meter and I am using X/XL size. It provides full length of protection for your legs. Can't ask for more.
I have used these for 3 seasons now and they are still going strong despite numerous diggers. At 5'5" and 130 lbs, I wear the S/M and had to tighten the straps down to the very end of the velcro. Looking forward to season 4!
Very Robust Knee/Shin guards
Familiarity:

I've put it through the wringer
These things are not the most comfortable pads around, but they don't move and protect both knee and shin from big rock impact. Mine have several large dings on the shins where rocks have bounced with no damage to my legs. Great Pads!
I used the Fox Launch Knee/Shin pads for a couple of seasons DH riding, they held up well and took plenty of abuse.



I did have a few issues with them, the first was I was always pulling them up, they would slide down my leg while pedaling, they stayed close enough to where they needed to be that I didn't feel like I would not be protected in a crash so it was more of an annoyance. The second issue is related to the first, when they would slide down they would rest on the top of my foot and dig in creating a hot spot that would eventually get pretty raw if I let the pads rest there too long. This issue does not effect everyone, it is really based on your leg length.


Solid
Gender:

Male

Familiarity:

I returned this product before using it
I never used them. I opted for something else. But these are very long and would provide good protection for going down hill. I don't think I would want to pedal a lot in them just because they go clear to my foot. they are solid and have lots of vents. I would use them for DH.
Comfy, don't move around
Gender:

Male

Familiarity:

I've used it several times
I purchased these so I wouldn't slam my colossal platforms into my shins. These are the first leg/shin pads I have ever purchased and so far, I would not buy a different pair. The cross strap system hold the pads in place while pedaling, jumping, etc. Venting is not too bad, minimal sweating. As far as protection, they seem pretty bomber...I haven't wrecked bad enough to really try the safety aspect yet. However, just having the pads has given me more confidence to go bigger and faster without fearing pedal smack or wicked road rash on my knees. I would recommend these pads to others!
I've used these guards for 2 1/2 years now- over three summer seasons. I've done all day sit and spins and 3 day downhill marathons at the bike park. They practically look the same as they did when I first bought them, but that's not to say they haven't seen their fair share of limbs, rocks, crashes, and washes.

They were perfectly comfortable for about two years. Then, this summer, they've just seen too much dirt and sweat and now they chaffe above the knee. Had I been shuttling with them the whole time, I think they would still be perfectly fine, but I hike and pedal all around and even do some trail maintenance with them on to keep the poison ivy and briars off my leg.

They are pretty hot when it's 100F out, but not suffocating. They do hold a lot of sweat and become weighted as a ride progresses and can shift down. I think other guards could be more comfortable against the skin, but the coverage on these seems hard to beat and I like the open back strap design for heat management and ease of removal. Whether or not I try a different set next, I'll still recommend that others try these guards. I've been impressed and they have saved my shin from many of Straitline shin strikes that can usually ruin your day.
These work great and have saved my legs many times. They are comfortable, fit well, and do a don't move around.
These are pretty good. Do slide down a bit after wearing for a while, but have provided the need protection. Comfortable to wear, but rubs and leaves a mark near the top of the knee. Overall, worth buying.
Overall a pretty good choice. However there are a few things about these that I wish I would have known before. The protection is great, but the ankle strap, and the bottom of the guard eat away at your ankle to where they are raw. If you buy these hightop or mid top socks are a must. And if you get dirt behind them it makes it even worse. If I were to do it again I would have gone for the six six ones.
Looking for some knee/shin guards that fit...
Looking for some knee/shin guards that fit snug or stay in place very well for riverboarding. Do these fit the bill? Would they work well in the water and protect from rocks? Others seem to use the sixsixone's but complain the slide down in the rapids.
I've never used them for water sports but I have been caught in a few rain storms while riding as well as having to walk through some knee deep water crossings before and they've never slipped. The foam liner doesn't get water logged but I don't know how well or how long it will last after repeated prolonged water exposure and submersion.
I'm sure decisions have been made by now, but for future reference I'll offer that these things hold tons of water when washed or sweat drenched. Also, the elastic straps will stretch when wet. This causes them to slide down my leg once I've started sweating a good bit.
I love these. I've posted several times my body dimesions, (6'3, 255lbs, 22 inch lower thigh, and 18inch calf, the l/xl fits me great. They feel great, great breathability and comfortable to pedal in. Took a few times to figure out how to unclip, but they are a great shin guard.
Very uncomfortable. The cross straps behind the knees pinch. Sent them back and got the alpine stars equivalent, they are way more comfortable.
I'm 5'4" and I guess I should have went with the "Shortys Launch." The bottom of the Full Launch shin guards touch the top of my feet, which of course limits your movement. These were size small. Just an FYI for any other freakishly short people considering this guard. I'm rating these Fox Launch Knee/Shin Guards 4 stars. They were comfortable and seems to have good knee actuation. They were just too long for my short legs (small).
These are the best leg armour!
I bought this back in 2007 and it's saved my knees and shins from numerous mishaps! I have a few deep gashes in the shin area which were the result of my foot slipping a pedal. Had it not been for the awesome protection I could have easily fractured my shin!

Once you get the straps setup you'll never have to adjust them again! They never slide or slip down my leg when pedaling. The times where I've been separated from my bike (aka: a crash) they've always remained strapped to my legs.

They breathe pretty well too and they clean up easy. I just put them into the washer every now and then and they're good as new again.

They're also thin enough to where they fit under my DH pants easily.

That all said, they are kinda pricey but when I think back on all the times it's saved me from serious injury I don't regret the price! As indicated, I got mine back in 2007 and the rear elastic straps are finally starting to show their age. In 2012 I will no doubt have to retire these and get a new pair. 4 years is awesome if you ask me!
I feel like I got really lucky, as these are the only knee/shin guards I have ever purchased; and they rock! Heck, I even got the size right the first time. I haven't taken a serious spill with these yet, but they have saved my shins from acquiring new scars from slipping a pedal. I also feel like I ride a bit more aggressively due to the fact that my legs are protected. That might just be all in my head, but whatever.
The strap system is quite impressive. It keeps everything in place; even when riding XC there is only minimal shift. During my last 3-4 hour ride I think I re-adjusted them just a couple times, which seems to be a lot less than some other products.
These pads are fast to get on & off, look awesome, fit great and, stay put, they don't slide down.
I have used the Fox Launch Pro (slipped down) and the Kali Aazis Plus 180, hard to get on and off (must remove shoe) and slipped down.