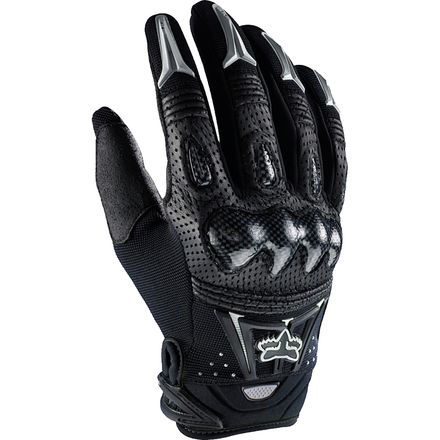 Detail Images

Videos
Description
Big, fast lines call for the added protection of Fox Racing's Bomber Bike Gloves.
Any biker who has ever cut a corner a little too tight a clipped a tree with their hand will appreciate the Fox Racing Bomber Bike Glove's burly polycarbonate knuckle protection. Designed for freeride and downhill bikers, these beefy gloves also include double-layered Pittards leather palms to increase their resistance to grip abrasion and sliding crashes.
Pretty Durable
Familiarity:

I've put it through the wringer
My first set of these gloves I used almost daily for nearly a year. These aren't designed to be skin tight. If they are, they'll probably start splitting at the webbing between the index finger and thumb.

I'm on my second set since in three years. This pair tore near the velcro from being put on and taken off so much, but they still work fine.

I will likely get another pair eventually.
Knuckles don't fit
Familiarity:

I've used it once or twice and have initial impressions
I wanted some burly gloves for downhill MTB and thought these would be great. They are very solid, double layer palm and has that extra knuckle protection, but the latter is also their downfall. The glove size was right, however I must have wider knuckles than they think a small size hand should have because after one day in the bike park my knuckles were raw from rubbing against the plastic protection since they did not fit exactly into the mold. Would be great for those whose knuckles fit! Same thing happened to my boyfriend who had to return his.
Wholesome bar banging
Familiarity:

I've used it once or twice and have initial impressions
I bought these for a little more protection during Crit races. I've wore them a couple times and love em. My Girlfriend even crashed in them during her Crit race with no damage to her fingers or knuckles!!
awesome gloves
Familiarity:

I've put it through the wringer
I use these for aggressive trail and park riding and they have held up after several months of use and some hard crashes. Snug but comfortable fit. Some of the best gloves I've tried. Only downside: hot in the summer.
Love it!
Gender:

Male

Familiarity:

I've used it several times

Fit:

True to size
I like this gloves, they fit well, (although at first i thought they were tight) nope wear it a bit before you decide to ship it back. They are perfect, so far it got like 85 here and my hands never got so hot. Last week on Kingdom Trails I fell once on them OMG if I didn't have them I'd get a nice road rash on my right palm. It protects well.
Excellent gloves
Familiarity:

I've put it through the wringer
Took a hard fall and they did the job well of protecting my hands from severe road rash. The fit is perfect almost like having no gloves.
One step short of great
Familiarity:

I've used it several times

Fit:

True to size
Bought these gloves to ride the rocky trails of western Colorado. These would be great except for the fact that the piece made to protect the knuckles is one solid piece vs a piece for every knuckle. Hands and knuckles move in your glove when you ride...the knuckle protectors should move too. All of my knuckles are uncomfortable shortly into a ride.

I'll be returning these for something more functional.
Bomb.com
Familiarity:

I've used it several times

Fit:

True to size
These are heavy duty gloves. Perfect for DH or some flowy trail. I don't use them if I am XC or climbing because they don't vent well, and don't have the greatest flexibility if I am in and out of bags/pockets/phone/etc. They protect if you lay down the bike and use your hand to catch you, or if you get to close to a branch.
good gloves
Gender:

Male

Familiarity:

I've used it several times
the size and fit seem pretty good. worth the price.
Fox Racing Bomber Gloves
Gender:

Male

Familiarity:

I've used it several times
Having had to contend with slippery-when-wet crosswalk paint, trolley car tracks, and wide, metal bridge spans and having wiped out a couple of times, I needed gloves with knuckle protection.



My mountain bike gloves with thick padding on the back of the fingers and hands are threadbare. I could not pull on or off XL Oakley gloves because the openings were too small. Most important, the gloves knuckle protection, made up of rubber rings, seemed only to be cosmetic.



My hand fits XL North Face, EMS, etc. winter gloves with some space for warm air circulation. Mountain Bike gloves, however, should be snugger for most riders to operate shifters, brake levers, and bells.



Fox XLRacing Bomber Gloves are easy to pull on and off and made even easier thanks to the velcro strap on the back of the cuff. The knuckle protection is actually some type of hard plastic integrated into the glove material.



The cosmetics are more subtle than the Oakleys, especially with the brand name, but make the glove look pretty sharp. To be nit-picky, they should have added some color to the knuck plastic so you can seem.



These gloves feel secure on the grips and allow you to move your fingers easily. They are also snug enough at the finger tips to depress, with a bit of effort, rubber buttons on your lights, convenient as the temps drop.



I have used these gloves already in temperatures as low as 34F (plus "bike wind chill") and they provide enough of a wind block to keep my hands comfortable.



Having had two new gloves and an older pair to compare, I can confidently say that Fox beats Oakley for function, comfort, cosmetics, and design. Both gloves are snug and the material fairly thin. The knuckle protection on the Fox glove is serious, but hopefully, I will never have to find out on the bike or at a bar to prove my testosterone level is high. In fact, I may order another pair as the snows will come soon.
Like the description says they are bomber! Pretty tough and so far and no issues yet.
These gloves are great for protecting the digits. Only issue I have is there is a couple of panels on the outside edge of the hand that are put together with some kind of adhesive that is coming loose on my right hand. Other than that, I would highly recommend!
these are the best gloves I have owned for MTB. They are durable and provide maximum protection all while still keeping fairly cool. I was surprised to find they used leather on the upper and the double stitched palm was icing on the cake. Definitely recommend these. For everyone that has fitment questions, order in your regular size. They are spot on.
I love these things. awesome protection and a nice fit.



only down sides is that the hard plastic can get a bit annoying before you get em worn in. and the lack of air ventilation makes your hands sweat.



all in all if you value awesome protection and grip get a pair!
If your are downhilling or freeriding and value protection, I cant imagine a glove offering anything more. These are heavy and very hot in warm weather, but they will protect your hands. Entire glove is heavy and the shells on the outside wil save your knuckles. They look a bit bulky but when they are on you dont even feel any of the armour on the outside.
The only thing stopping me from giving these super tough gloves 5 stars is the rubber stripping on a couple of fingers has started coming off. It's just cosmetic, not a functional issue.

These gloves performed well for me in a 12 hour downhill race. I went down on a snowy gravel road at 40 mph and slid a good ways on one hand. The tough leather palm held up and kept me from turning my hand into hamburger.

I've taken a couple of hard shots to the knuckle area and no damage. The protection has held up well. I would recommend these to anyone looking for some serious hand protection. They look pretty sharp, too.
For light weight gloves, you can't find any stronger.
I have had the same pair of these gloves for about three years now and they are still rocking strong. From 12 hour adventure races, to epic multi-day MTB destinations and a bit of dirt moto thrown in, they handle it all superbly. Diggers don't phase them, nor does smacking off errant saplings along the trail side. Just wash them every couple of months and that's about it. The only thing I would change would be to enhance the rear velcro strap... or eliminate it altogether. Even when it comes loose, the gloves are secure. Just a nuisance more than anything.
Gave these to one of my son's friends as a B-Day present. He had admired our Fox Bomber gloves for a while. He was very stoked about these as he is an avid downhill racer and MTBer. These gloves are great. Tough and super protective. Sizes run pretty true.
What more to say about this glove, I have used them to DH for 2 years and they still are in great condition.
Rode them monday as rain came down and the grip was still solid.
Taken a few spills with no rips, tears etc...

Super durable.
I imagine these gloves have a few years left in them.
Worth every penny