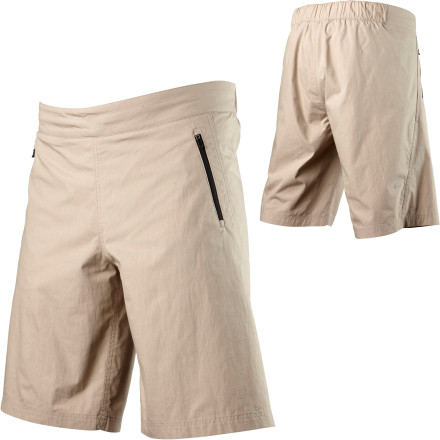 Detail Images
Gear up with the Fox Racing Baseline Mountain Bike Short and head out on mountain adventures. The durable shell fends off angry, trail-side vegetation while an improved chamois keeps you from sleeping stomach down after a fifty-mile jaunt in the woods.
One of my least bike shorts
I own 5 different pairs of mountain bike shorts by different manufacturers. This my least favorite hands down.

I have 31-32 waist and this 34 shorts is tight on me. Since it's tight and has no zipper, trying to pee in the wild is quite a challenge attempting to pull down a sweaty bike short. Pockets are small and tight. You can't remove the inner liner.

Durability sucks. stitches are barely hanging and one of the drawstring opening is wearing off. Only advantage is that it is lightweight.

As you can see I am disappointed with this one. Get the Royal Racing Matrix Short(Read my review).
These shorts run small around the legs so I would size up unless you want tight shorts. I wear 34 waist in everything and bought these in the 36 and they fit like a 34. The drawstrings allow the waist to be cinched up. The run a little above the knee for length and the chamois is decent.
Comfy, but watch the stitches!
I bought these shorts a month or so ago, and the fit has been great. Very comfortable to wear, chamois does it's job well and the zipper pockets are a nice feature. That being said I have had some issues with the drawstrings. The first time I went to put these on the little metal ring around one the drawstrings ripped out and tore a 3-inch long tear in the waistband. I sewed it up later, but it's still something to watch out for.
A deal at twice the price. Fact is, I got 2 pair for about that. Oh well.... got em in black bout a year ago and the ass is gettin' a little bit of a shine, but only see that when i put em in the laundry. Got em in gray a few weeks ago for 50 bucks, cause they are real comfy and it doesn't feel like i can imagine a pair of depends would feel like. My fit for them is 32 and i squirm into them, but once on they fit good.
No frills, light-weight, minimalist shorts. Cannot remove the inner padded-liner, but that really doesn't bother. The price is half that of the heavy duty shorts you see on the market, so you shouldn't expect anything more. The 36 in. short fit well on my 6'3 210lbs frame (I'm usually a 34, but tried them on a retail store, and they seem to run a little small, so I opted for the wider waist, cinched it up, and was pleasantly surprised). Performed great over the first 20 mi ride I took them on. No complaints whatsoever.
Tough to say how these perform because I couldn't even get them over my thighs! I wear a 34 in almost every pair of pants/shorts I've ever worn so I got a large. I'm 6'2" 210 lbs. and my thighs are (I guess) large for my size. I don't wear skinny emo jeans. It took me 3 seconds to realize these would never work. Material is pretty lightweight, but the construction looks okay. Honestly looking for a more beefy short even tho I'm exclusive XC/Trail. Didn't bother trying an XL, just hoping to capitalize on chainlove.
These shorts are super comfortable, but the waist is just a little tight (I'm a medium with a 32 in. waist), and the small pockets wouldn't be able to hold anything wider than an iPod touch. That isn't much of a problem anywho, since I put all my stuff in my camelbak. The inside part is great for long rides too. Overall, the shorts are wonderful. Recommended.