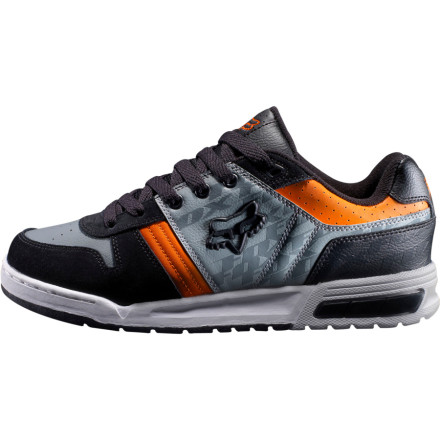 Detail Images
Fox Racing designed the Men's Addition Shoe for pure performance. The leather upper with perforated synthetic leather panels can take a beating so you don't have to worry about a mid-ride blowout, and flex grooves allow the sole to bend more freely without compromising on durability and protection.
Things went better then expected..
I wear a size 11 shoe and i have a really wide foot. They fit me great. Not too tight, not too loose. Love the fit. In terms of grip, for this price, i wasn't expecting what i got out of them. Did an evening ride on a couple trails i avoid going all out on because of my feet slipping off the pedals and let me tell you, these are some confidence inspiring shoes. They stuck like glue the whole ride, looked good, and felt good all for under 40 bucks! Hell, if they rip, or unglue, or an 8ft tall sasquach snags them off my feet, ill buy another pair pronto. Gnar.
These shoes are awesome! They're my first pair of biking shoes, but they're grippy and very comfortable to wear. I have some very mediocre pedals on my bike and these shoes stick to em very well. They're not so sticky that you can't adjust foot position, but grabby enough to keep your feet in place. They look nice too! I've got the white and black ones with red accents.
Been wearing Fox apparel since 1974...great products...glad you guys carry it!
Least favorite but also lowest priced of my three fox shoes so far. Plenty of compliments when I wear them. Definitely look better from far then up close. Comfortable to work in all day long. Very versatile shoe but I just don't love the covering decals enough.
love the shoes , the sizing is accurate ,great all around casual shoe
They grip very well to the pedals. I noticed that when the bottom of the shoe got wet it was kind of slippery. But it wasent to bad. Very comfortable. I realy like the design! The sole is pretty stiff too. I would recomend these shoes to anyone who wants grippy and great looking shoes!
I bought three pairs for my boys for dh and they love them. The first thing they said after their first shuttle run was that "they are so much better than normal skate shoes, stiffer soul and way better protection. Plus they think they look kool!!!
I really like these shoes. They fit nice and are pretty tough. The soles are tough. They are light, stylish and grip great on pedals. Used them at whistler, hiking up trails, street and do an amazing job. I wear these more then my 5 10s.
Unanswered Question
can anyone give me a comparison between...
can anyone give me a comparison between these and vans? i've always worn vans for riding, can't seem to spend the money on 5-10s.
Excellent Value and Performance
First shoes I've bought for flat pedals and love them so far! I have some flats with spikes on them and these shoes grip really well! Can't compare the grip to 5-10's since I've never tried them but I have no complaints using these except I wish I would've bought them sooner. Fit was spot-on so no up or down sizing. Very comfortable to walk in as well. If you are thinking about getting a shoe specifically to run with flat pedals and are on the fence BUY THESE! With the price you are getting a steal! Eventually I will probably try out the 5-10 shoes but I have no regrets at all buying these. The soles are very grippy, you won't be disappointed if these are you first pair of shoes for flat pedals.
These shoes are stiffer and heavier duty than the 5-10 BA51C shoes that I also have.