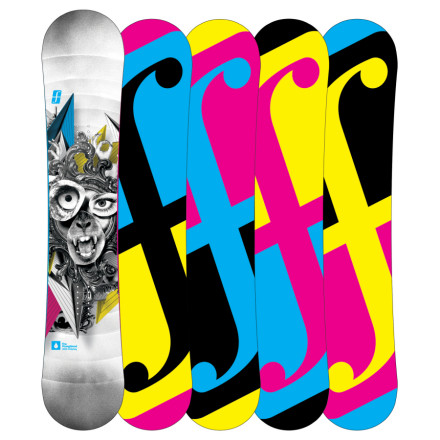 Community Images
Big feet mean bigger, meaner stomps with the Forum Youngblood Chillydog Wide Snowboard. You'll melt into the sexy flex of Chilldog w/Pop continuous rocker slathered with biaxial laminates and spin your way through the park before you know what happened.
Chillydog with Pop has all the stability, predictability, and forgiving feel of Forum's continuous rocker with the added boost of Pop zones just outside of your stance—let the huge ollies flow like water
Gnar core uses high-grade aspen for maximum strength without the expected weight. Constructed with Forum's Grainbelt method, the core gets 10 times the normal compression strength of a normal core—this means you don't have to hold back because you're worried about snapping your deck
Freebase material ensures you have enough speed to get super high, is easy to wax, and handles abuse that would have other base materials committed to a psych ward
Biaxial laminates crisscross at 90 degree angles to give you a silky-smooth and forgiving flex—sexy, sexy, science
Swingers Club tip and tail design shaves weight, allows for easier spins, and better float in the deepness—may encourage threesomes
Beveled edges show up tuned to your kinky desires-you'll have to try hard to catch an edge
If you compare the 2011 Burton process...
If you compare the 2011 Burton process V-Rocker to the Forum Youngblood, which would you say is best for park and a little mountain riding here and there?
They are similar in flex.
I would go with the process v-rocker, mainly because it has a sintered base and the forum has an extruded base.
Otherwise, they are similar in specs.
Unanswered Question
Two questions: 1) I'm 5'10'' and 160 lbs...
Two questions:
1) I'm 5'10'' and 160 lbs size 11 boots. Should 155 wide be best?
2) How does this compare to the skate banana in terms of stability on kickers, flex, and pop? Thanks.
hey, i'm 6 foot, weigh 160lbs, this is my...
hey, i'm 6 foot, weigh 160lbs, this is my second season i'm coming into, so i'm just starting to get into parks but still learning, do you recon this board would be good to learn/improve on? and would 157 be the right size?
I would run the 155. That is the right size for you if you have a 10.5 boot or bigger. If not then you can run the 154 regular board; http://www.dogfunk.com/forum-youngblood-chillydog-snowboard
with a 155 wide can u still have a good...
with a 155 wide can u still have a good wide stance?
hey dan, with a 155 i think u could get that wide stance ur looking forr
Yes, all forum boards can run a stance width of at least 25 inches.
What does people think about a 6'2" riding...
What does people think about a 6'2" riding a 155 wide board? mainly park. It's not too short... or IS IT?
No it's not too short. Board's are mostly based off of your weight not hight. Don't get me wrong though, hight still matter's but not as much as weight. If you look at the stats for the forum chilly the weight class for the 155 wide is around 160lbs. you can be more or less, but that is the general riding weight. The reverse camber enables you to rock a shorter board. This is because of the longer edge you get with reverse camber. So a 155 reverse camber is the same or equivilent to a 157/158
It's all up to your weight, How much do you weigh? Let us know and we can give you a better answer.
I weigh about 170 pounds.

Thanks for the answer Jacob Roberts. It helps alot! Think im getting this sweet board!
I'm 6'2" bout 185 lbs....i want this board...
I'm 6'2" bout 185 lbs....i want this board but I should prolly ride 159 as u can see its only available in 157 longest is it stupid to even try?
Last youngblood the lam on bottom popped out in weeks.
You will be 100% fine on a 157 with that height/weight.

I am 6'0" and 190lbs... Ride a 156.

You should not have any problems with the laminate... However, you have the warranty to back it further setting your mind at ease.
Yes the 157 will work no problem. The youngblood is durable, don't even worry about it falling apart on you. It is solid, you will be stoked.
Saweeeet, thanx guys. I'm on it.
Utah Side Country, On the Forum Youngblood.