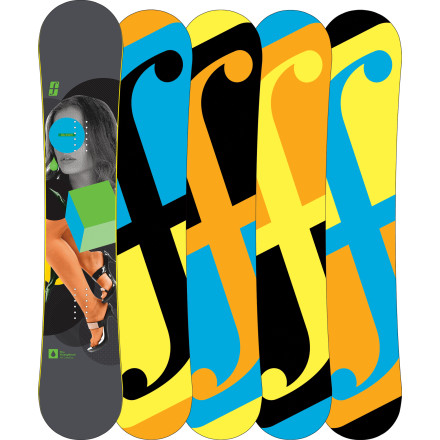 Forum's Youngblood Chillydog Snowboard satisfies the sick snow-desires of old dudes just as much as it does the freakishly twisted imagination of young studs. Stiffness is only necessary for specific activities, so you can count on the Youngblood Chillydog's soft, buttery feel to give you unmatched pleasure when it's time to lay down some serious love (on the hill, that is).
Chillydog with Pop has all the stability and forgiving feel of Forum's continuous rocker with the added boost of Pop zones just outside of your stance
Gnar core uses high-grade aspen for maximum strength without excess weight
Forum's Grainbelt core construction gets 10 times the normal compression strength of a standard core
Booter Boosters carbon stringers in a v-shape from outside of the binding inserts add pop to your ollies and support in landings
Biaxial laminates crisscross at 90-degree angles to give you a silky-smooth and forgiving flex
Swingers Club tip and tail design shaves weight, allows for easier spins, and delivers better float in pow
Beveled edges show up pre-tuned to suit your buttery-box and pole-love-making needs
Freebase material holds wax and resists damage from everyday shredding on rails, boxes, and icy snow
What do you think about this product?
Have questions about this product?
Take Charge, Charge Hard. For the park-savvy shred who likes it loose and playful, the all-new Youngblood serves up ChillyDog with Pop and Booter Boosters, giving you superior pop with a forgiving feel. Give it a spin, jump off stuff, hit it hard, and slide whatever, the Youngblood ChillyDog is what progression is all about.

Tech:
ChillyDog with Pop Profile
Twin Shape
Gnar Wood Core
Biax Fiberglass
Freebase

-Additional Tech:
New! Booter Boosters - Carbon Strands in the tip and tail
Swingers Club - Precisely shaved down tip and tail
Take Charge, Charge Hard. For the park-savvy shred who likes it loose and playful, the all-new Youngblood serves up ChillyDog with Pop and Booter Boosters, giving you superior pop with a forgiving feel. Give it a spin, jump off stuff, hit it hard, and slide whatever, the Youngblood ChillyDog is what progression is all about.

Tech:
ChillyDog with Pop Profile
Twin Shape
Gnar Wood Core
Biax Fiberglass
Freebase

-Additional Tech:
New! Booter Boosters - Carbon Strands in the tip and tail
Swingers Club - Precisely shaved down tip and tail
Take Charge, Charge Hard. For the park-savvy shred who likes it loose and playful, the all-new Youngblood serves up ChillyDog with Pop and Booter Boosters, giving you superior pop with a forgiving feel. Give it a spin, jump off stuff, hit it hard, and slide whatever, the Youngblood ChillyDog is what progression is all about.

Tech:
ChillyDog with Pop Profile
Twin Shape
Gnar Wood Core
Biax Fiberglass
Freebase

-Additional Tech:
New! Booter Boosters - Carbon Strands in the tip and tail
Swingers Club - Precisely shaved down tip and tail