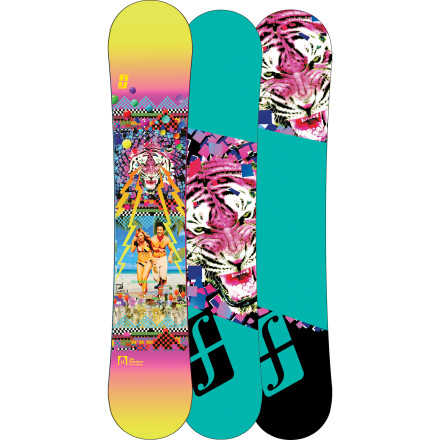 Upon eating his first chili dog at age three, Peter Line knew immediately that the whole is so much better than sum of it's parts. It was that day he told his parents how he wanted to be a professional snowboarder and that he would eventually design the epic, freestyle-oriented Forum Substance ChillyDog By Peter Line Snowboard.
ChillyDog with Pop profile blends all the stability and forgiving feel of Forum's continuous rocker with the added boost of Pop zones just outside of your stance
Stiffer tail adds pop for takeoffs with stability for landings and hard turns
GnarLE core blends strong aspen with ultra-light stringers to reduce weight and to blend powerful pop with a forgiving feel
Forum's Grainbelt core gets 10-times the normal compression strength of a standard core
Booter Boosters carbon stringers form a V-shape from outside of the binding inserts to add pop to your ollies and support during your landings
Swingers Club tip-and-tail design shaves weight, allows for easier spins, and better float in pow
Beveled edges show up pre-tuned to satisfy your buttery-box and pole-love-making cravings
Formula sintered base is slicker than an encased meat-stick bathed in hot water
What do you think about this product?
Have questions about this product?
Team rider Peter Lines deck of choice. He's been nice enough to lend his own personal graphics to this board. This board features ChillyDog with Pop for a forgiving and fun ride with special pop zones that will get your higher all day long. With Booter Boosters acting as a secret ingredient, you might never come down from this one.

Tech:
ChillyDog with Pop Profile
Twin Shape
GnarLE Wood Core
Biax Fiberglass
Formula Sintered Base

-Additional Tech:
New! Booter Boosters - Carbon Strands in the tip and tail
Swingers Club - Precisely shaved down tip and tail
Stiffer Tail
Team rider Peter Lines deck of choice. He's been nice enough to lend his own personal graphics to this board. This board features ChillyDog with Pop for a forgiving and fun ride with special pop zones that will get your higher all day long. With Booter Boosters acting as a secret ingredient, you might never come down from this one.

Tech:
ChillyDog with Pop Profile
Twin Shape
GnarLE Wood Core
Biax Fiberglass
Formula Sintered Base

-Additional Tech:
New! Booter Boosters - Carbon Strands in the tip and tail
Swingers Club - Precisely shaved down tip and tail
Stiffer Tail