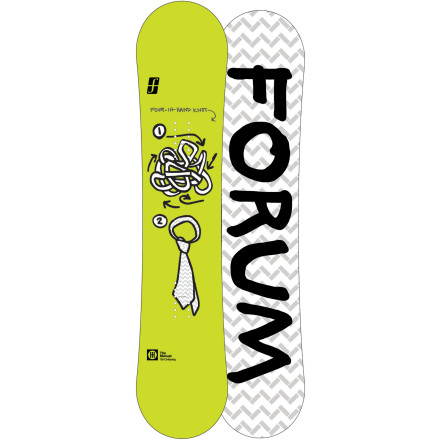 It seems like just yesterday they were taking their first lesson and now they're hitting jumps and rails that you're not even thinking about touching these days. Support their passion and progression, even though it makes you feel old, with the Forum Manual ChillyDog Kids' Snowboard. ChillyDog is poppy and forgiving, and pre-beveled edges prevent hang-ups on rails so they can spend less time falling and more time learning new tricks that you weren't aware even existed.

ChillyDog with Pop features continuous rocker with a soft middle section and stiffer pop zones outside the bindings for loading up big ollies
Biax Glass provides a forgiving and playful flex
Beveled Edges are pre-filed so they can hit rails right out of the plastic without having to worry about hanging up
All-new Bad Ass Core is meant to take a beating on the streets with beefed-up sections underfoot for durability where they need it
Swingers Club features shaved down core in the tip and tail for reduced swing weight
True Twin shape for dialing in switch tricks
FreeBase Extruded Base absorbs wax well and is easily repaired
Swingers Club features a shaved-down core in the tip and tail for reduced swing weight
What do you think about this product?
Have questions about this product?
Making a mockery out of moderation, slay all day and shred all night on the Manual. Whether out for a quick hustle in the streets or tag teaming the double line in the park, let the ChillyDog with Pop do the work before you relax into position and flex it out. Now featuring our NEW Bad Ass Core this board just got even more indestructible. So unload the hammer and do some business.