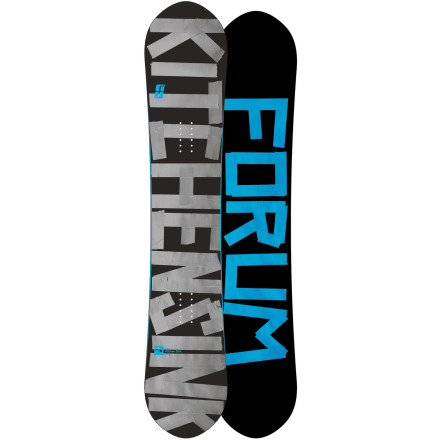 When Forum created the Kitchen Sink Snowboard it didn't overthink the process of building a board, but didn't cut any corners, either. It's directional, has a stiffer tail for boosting over flat-ground objects and clearing knuckles on jumps, and uses Forum's all-new GrandPops profile which re-introduces you to the power of camber with just the right amount of near-flat camber under the bindings. No gimmicks here, just proven tech and appetite for all-terrain destruction.
New GrandPops profile provides a super-springy cambered platform between the bindings and almost-flat zones under the bindings for catch-free carving and stability
New Super Buttercup shaping provides a concave like shaping akin to a skate deck that elevates edges for a catch-free ride that compliments the camber-like GrandPops profile
New Car Bombs load the nose and tail up with power without the help of carbon, instead using a thick fiberglass inlay from the outermost inserts to the tips for explosive pop that won't inhibit your press
Swingers Club core profiling gradually tapers the thickness of the wood to be thinner at the nose and tail for improved flexibility and decreased weight overall
Light triax fiberglass laminate provides the longitudinal snap needed for all-mountain control
Super GnarLE core is filled with sex and lightweight quality sustainable wood
Formula base is composed from a durable, sintered compound that doesn't suck or go slow
Stiffer tail rides with directional pleasure
Right form the horses mouth!
Tech, Tech and more Tech!! Treat the mountain like your personal park, not letting anything get in your way. The newest board in the 2013 line up is a freestyle driven masterpiece with the backcountry in mind. Combining Pop zones on the tip and tail with a lifted edge performance of Butter Scoops technology means more power and precision were you need it! Its time to let your mind control your board instead of that 2x4 that was on your feet last year.