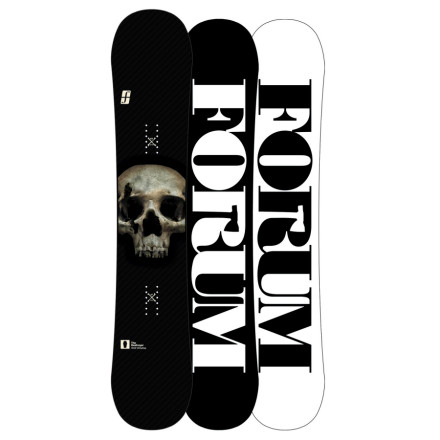 Community Images
Forum used extra human skulls to create the Destroyer Chillydog Wide Snowboard to please your big-ass feet. Then they stuffed it with park-dominating technologies that will put you on some next-level sh*t.
Chillydog with Pop has all the stability, predictability, and forgiving feel of Forum's continuous rocker with the added boost of Pop zones just outside of your stance—let the huge ollies flow like water
Carbon strands have been strategically placed in the nose and tail to give you even more boost for takeoffs and flat ollies—Booter Boosters will rock your face off
GnarLe wood core utilizes aspen and sustainable wood stringers to create a powerful and responsive ride. Constructed with Forum's Grainbelt method, the core gets 10 times the normal compression strength of a normal core—this means you don't have to hold back because you're worried about snapping your deck
Light Triax laminate provides a buttery-smooth flex with a lively feel so you can get yourself off—it's a hella sexy flex
Beveled edges show up tuned to your kinky desires-you'll have to try hard to catch an edge
Formula sintered base gets you up to speed so you don't knuckle that 50 footer and hate your life
I am a 6ft, 180 pound, dc park boot size...
I am a 6ft, 180 pound, dc park boot size 13

The 158 Wide will be good and wide enough?
The 256 mm waist is a bit concerning regarding toe and heel overhang
Best Answer
I would try and go with a wider board. Size 13 is getting pretty big. If you decide to go with this deck you need to make sure you have a binding with a good gas pedal to help reduce toe and heal drag as well
hey i have a size 11 thirty two boot and...
hey i have a size 11 thirty two boot and i have xl union contracts, should i go with the wide or just reg.? how big is the difference between the wide and reg? thanks
Go with the wide, it will only help you and not hurt you. You will be stoked on it for sure. The Destroyer is a great board. Nothing bad I can say about it at all.
im 5'9 and wear a size 11 boot and im not...
im 5'9 and wear a size 11 boot and im not sure if i should get this board (or maybe the nitro rook) in wide or not, but the thing is im only 14 years old and i plan on growing more, and having this board for at least 2 years. I think i might go with a 156 wide but im really not sure. what do you recommend?
Length of board would depend on your weight and what you like to ride. I couldn't recommend a length cause I don't know if you're 130lbs or 230lbs. I would say get something a cm or two longer than you would if you were keeping the board for a single season. For two seasons that should be fine as long as your feet don't get a lot bigger and you gain a ton of weight. As far as width goes you'll need something thats at least a mid wide. Look for a waist width of 250mm or larger and you should be cover in the toe/heel drag department. Good luck.
How much do you weigh? That is a pretty important question. Let me know that and I can get a better idea of what size board you will need.
i'm about 160lbs, and i ride mostly park but also just freeride
I'm 5'11. 190lbs size 11.5 boot and im...
I'm 5'11. 190lbs size 11.5 boot and im really interested in getting either this board or the Lib Tech Skate banana. I live in the east coast so i mainly ride around in hard pack or groomed, don't see much powder here. I would say i spend about 70% of my time riding around the mountain looking for jumps and fooling around and only about 30% in the park. Ive only been snowboarding for 2 seasons and im really looking forward to progressing further with my tricks. Which board would you recommend for me? And if i were to get the destroyer, would i be able to get away with a 156W or should i stick to the 158W?
i have a size 12 boot and i ride a 151 stepchild not wide and its fine
I've recently bought this board with the...
I've recently bought this board with the specs 158 Wide. After compairing it to my older board, Forum The Lander 160 Mid-Wide, I'm kinda curious how this can be called a wide board, as my old one is actually wider.
So, what's the criteria to call it a wide board, and how can someone know how wide, and if it's actually wider than something they've already got?
Best Answer
Every company has their own standard of wide-mid wide, Any board that is 25 cm or higher is going to be a wide board. I do know that the Lander was wider than that by a bit but Forum does not make free ride boards anymore. I think the widest board they make is the is a youngblood 159W it is 25.9 cm wide
this board is so tight i cant wait for some snow