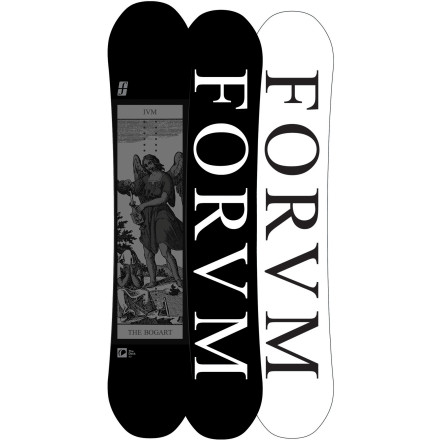 What happens when you boil down the hype, dissolve the colorful graphics, and get back to the basics of freestyle riding? The Forum Deck Snowboard gets right down to it with the versatile camber-meets-rocker DoubleDog profile, street-worthy durability, and subdued graphics that let your style do all the talking. Ride it, put scars in it, fix it, and do it all over again.

DoubleDog profile places camber at the binding zones for pop only where you need it and rocker between the bindings and on the nose and tail for added lift during presses and pow-floating as well as catch-free carving
Booter Boosters are single strands of carbon placed in a v-formation outside the outermost inserts and angle toward the contact points to expedite power from your feet directly to the edge
Swingers Club core profiling gradually tapers the thickness of the wood towards the nose and tail for improved flexibility and decreased weight overall
Biax fiberglass laminate flexes with forgiveness torsionally while maintaining a crisp amount of pop
Gnar core made of high-quality vertically laminated aspen is not only light in weight but exceptionally strong and responsive
Freebase base compound is a speedy and sturdy extruded base built to destroy without getting destroyed
True twin shape mounts up evenly for an even feeling when riding switch
Diecut base graphics alternate colors and may ship with opposite colorways than what is shown
Forum Deck 157 or DC PBJ 157?? Help please!!...
Forum Deck 157 or DC PBJ 157?? Help please!! Witch one???
Hey,

I'd go Forum for sure. The core is more burly and I like the DoubleDog profile better, but that's just personal preference really.
Unanswered Question
How much jibbing and buttering would you...
How much jibbing and buttering would you say this board has? Been looking at a few Forums but not sure if the double dog is the camber for jibbing.
how is this board in powder, how does it...
how is this board in powder, how does it float
Hey Trent,

This board is primarily a park board. However, the DoubleDog profile will certainly provide some good float in the powder.
Turn the mountain into your personal park with double dog tech. The Deck has a softer flex, wider waist width and is less expensive than its older brother the Destroyer Double Dogs. These deadly combinations are sure to put some style back into park riding!
The Deck in particular is absolutely one of my favorites. For that all around shredding this is the board you should go with. She will give you everything! You will be whipped by this board and you wouldn't go a place without it. When you're coming down from a big booter and you're thinking you might not pull this spin off, thats when the Swingers Club Core kicks in. It will save you every time when you're about to tail wheelie. It'll bring ya right back on top!