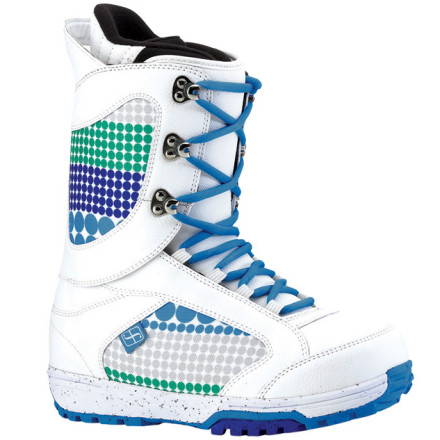 Detail Images
i love these boots, they're way soft and fun to ride in. my feet get cold pretty quick on super pow days, but i mean that's snowboarding i guess. for the price they're amazing.
This is the second season I've worn these boots and I still love them. They were comfortable from the day I bought them, I did not even feel like they needed to be broken in!
how do the sizes run on these boots?
how do the sizes run on these boots?
For the most part, what ever shoe size you are, that is what boot size you will wear. If you adjust your size it is usually down a half size. But I would get your current shoe size. Example, I wear 9.5 in shoes, and I usually wear 9.5 boots.
I usually wear a 9.5 in shoes but I always wear a 10 in boots of every kind... a 10 fit perfect for me.
These boots are really soft and super fun for riding park. Really comfortable boots! I work at a resort in the states and new zealand, and they lasted for over 1 1/2 seasons. they wore out a bit quicker then the last pair of Forums I had. Also the canvas part didn't stay water proof for very long and on spring days my feet get wet so much faster/easier then on my last pair which were all leather. I really like Forum boots, but for my next pair I'm going to go up to the higher end ones.
I need the MOST flexible boot available...
I need the MOST flexible boot available for women!! I went waaay too long in the boots I have, and they are so broken in, i feel like i cant even ride with a new boot because its so stiff. So im going to need all the give i can get!
The softest boot we have this year is the Mist. try it out, i know you'll love it.
Write your question here...Size in a...
Write your question here...Size in a snowboard boot. I wear a 7.5 street shoe and an 8.5 in a running shoe - what size do you think I should get? Im looking at the Forum Aura boot.
Get your street shoe size. You want snowboard boots to fit as tight as possible since they pack out about a half size.
not necessarily.. but for this particular boot, i'd go with andrew's suggestion.

If you can, the best thing to do would be to go to a store with Forum boots in stock and try on any model from the brand. Then you'll know exactly what size fits you best in the specific brand.