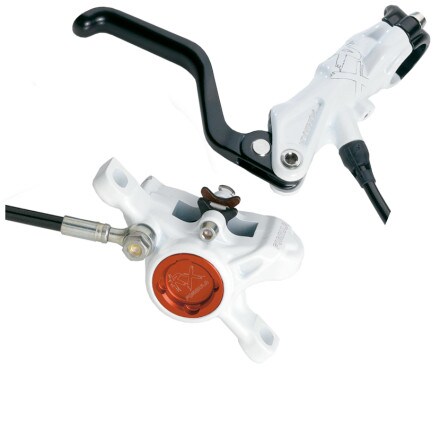 Detail Images
Description
Light enough for XC, powerful enough to smash appendages.
Formula has revamped their entire lineup, based in part, on the merits of their incredible R1 brakeset. The good news is that the trickledown effect has resulted in a host of new products that share the same great new design features. The Formula RX Disc Brake is such a recipient. It shares the general design of the top shelf R1, but does so in a value-minded package that weighs in within 10 grams of their legendary Oro Puro brakeset. With the RX brake, you can expect to get that same smooth application of stopping power and consistent lever feel that you'd expect from Formula's top shelf products -- all in an extremely affordable package.
The Formula RX Brake employs the new radial design master cylinder. The RX master cylinder body works just like its more expensive big brother, but a pressure cast body instead of a forging keeps the cost down as well as the use of steel hex-bolt hardware instead of the R1's alloy torx bolts. It can be run moto-style with the rear brake on the left as both lever/master cylinder bodies are identical.
It features the same 22mm diameter pistons as the R1 and both can use the same brake pads. However, where the R1 has an alloy backed organic pad, the RX comes with the steel backed organic pad as standard equipment. It uses a polyester braided hose that works to prevent hose expansion when the system is under extreme pressure. Formula uses DOT 4 brake fluid, which is less temperature-sensitive than mineral oil. The pistons themselves are made of a heat dissipating composite material and are cupped to provide even more surface area for the fluid to push against and to help shed built-up heat. The one-piece caliper design is stiffer because there are no mated, bolted-together parts to flex along the seam line when you need to stop fast and grab a fistful of lever. The caliper provides good ventilation on both bottom and top of the piston and pads for better heat dissipation. The top vent also helps make pad changes easy, even with the wheel still in the bike.
The Formula RX is available in Black or White. The price reflects all the parts, save for the rotor which is sold separately in three sizes -- 160mm, 180mm, and 203mm -- each with the appropriate adapters. The RX brake weighs 351 grams (with 160mm rotor).
Please note: almost all hydraulic brake lines need to be cut to size before a bike is properly shod with hydraulic disc brakes. You'll need a quality cable-cutter like the Park CN-10 and a spoke to first cut and then de-crimp the housing.
Rotors available separately
Front hose length: 47in (120cm)
Rear hose length: 64in (164cm)
Share your thoughts
What do you think of the
Formula
RX Disc Brake
? Share a...