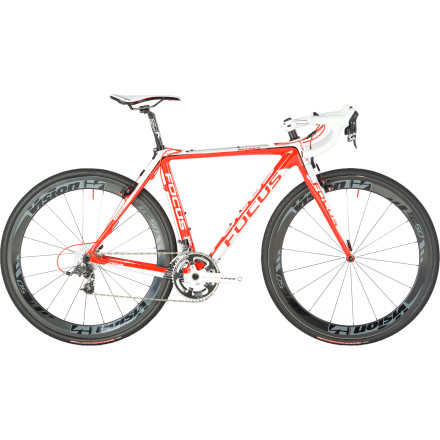 Detail Images
You may not share Jeremy Powers' love for ridiculous 'smash the club' crunk remixes, or Chris Jones' love for weiners. It's what you have in common with these guys that's more important—namely, your insatiable appetite for steeplechasing glory, and your demand for the absolute best from what you choose to ride. Look no further than the Focus Mares CX 1.0. Differing only in palette and panache from the Rapha Focus CX team issue, the Mares CX 1.0 is the bike that carved a triumphant swathe across both the US Grand Prix and North American Cyclocross Trophy series, as well as a pair of emphatic victories (sans trophies) at the Single Speed World Championships. In the dust, rain, mud, and the inevitable late October snow, the Mares CX 1.0 is a bicycle as proven and accustomed to winning as they come. With a SRAM Force drivetrain, FSA cockpit, and Vision wheels, your victories will soon be tattooed alongside the storied successes of the Rapha-Focus team.
Vision TC50 wheels provide pro-tour caliber speed in the flats, and the deep, 50-millimeter profile won't get bogged down in deeper mud or sand
Stiff, press-fit 30 bottom bracket maximizes your pedaling efforts, even on softer ground
Vittoria Cross EVO XN tubular tires are designed for seasons of speed, giving you the edge on drier courses
Ovalized top tube makes for a more comfortable shouldering on the run-up
What do you think about this product?
Have questions about this product?
Cross season is almost here and I just got one of these. This is a super fast and trusty steed that will handle some of the roughest races out there and not even flinch. I was blown away at how fast this bike takes off the line and that it is a very compliant ride all around while still being fast thru any chop and corner's. I can't say enough on how impressed i am with this bike. Get one today!!