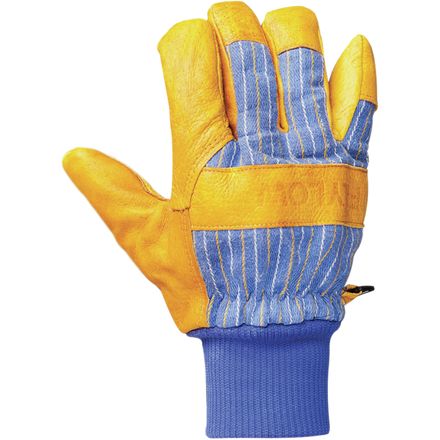 Community Images
Description
Think you're tough?
Crested Butte's got a reputation for weeding out the weaklings, but the legendary Flylow Tough Guy Glove isn't scared of a little gnar. The pigskin leather shell's been treated with a SnoSeal water-repellent treatment to keep your hands warm and dry on those snorkel-worthy days, and the dextrous design makes it easy to adjust buckles, work zippers, and flip single-finger gestures of gratitude to the dude stomping up the skin track.

Pigskin leather and canvas
SnoSeal water-resistant DWR treatment
Elastic cuff
Are these insulated? Figured they'd be since they're advertised as ski gloves, but the tech specs don't say they are. Thx
Yes, these are insulated with 60 g Heat Rac polyester.



Here's a detailed review of these gloves:

http://www.outdoorgearlab.com/Ski-Gloves-Reviews/FlyLow-Gear-Tough-Guy
Good all arounders when it's not to cold
Familiarity:

I've put it through the wringer
I do a bit of skiing with these, but mostly use them as everyday gloves in the winter. Great for shoveling and a little casual XC action, but if the wind and cold is up they aren't warm enough and my finger tips get cold quick.
Works
Familiarity:

I've put it through the wringer
I use these for everything. Work in town, skiing at the resort, hut trips, backcountry day trips blah blah. I ski in Colorado, which isnt too cold. When it does get super cold, I use liners. But basically, I dont use other gloves too much. These gloves work if you work hard. If you are stationary in a cold environment, these arent for you.
favorite gloves above 0 degrees
Familiarity:

I've put it through the wringer
I wear them with shiny liners when its cold (<20). They are deceptively waterproof, haven't had to re-coat them for 2 seasons. Dextrous enough to use GoPros, zippers, and buckles (even the little chest buckle on a Dakine Heli pack).



I suggest putting duct tape over the thumbs (which I did a little after the photo) to keep wind out of the seam when warping space time like moi. Works like a beaut.



Also, though it doesn't affect performance, the leather grain on my two gloves is completely different.
Not the warmest..
Familiarity:

I've used it several times
Great for active days, chores, etc. But my fingertips have gotten cold on days in the upper teens. Then again I've had them out around 10F and been fine while XC touring. Not sure I'd take them out on a lift day unless I knew it was about 32f. Need more time to tell. In the meantime, these have become my everyday glove, so maybe I should have given them that 4th star.
Quality lost?
Familiarity:

I've used it several times
This is a second review of these from years ago. I am pretty disappointed in these this year. These were my go to glove for ski/work. After about two weeks the stitching came apart on the back hand of the glove. After a month I got a hole worn out in the middle finger on the right glove. This hole has slowly worked itself pretty big so far. Don't know if the quality of the run I got was crap or just bad luck but I have been highly praising these gloves for a few years. Not this year though. They are still cheap enough to try again though. I ended up getting the BD Dirt Bag glove and the quality seems to be far and away better.
Simplicity is sometimes better...
Familiarity:

I've put it through the wringer
No thrills here. This glove is a stripped down laborer's glove with added insulation for some warmth and padding. The elastic band keeps the gloves nice and snug. The grip will wear with time but the pigskin is tough and durable. An extra dwr treatment or two from time to time will definitely extend the life of the glove. Waterproof or even resistant not so much, but that's not what these gloves are about. One of my go toos on the groomer from high teens and up.